RUMBLE OF THE KINGS 2011 - 22'' Video Countdown to Yodsaenklai Fairtex vs Artur Kyshenko - Live on PPV..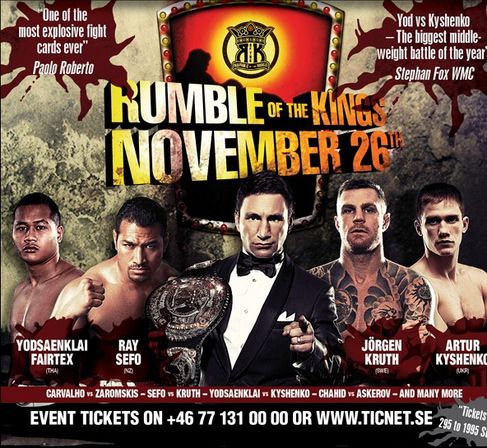 RUMBLE OF THE KINGS
November 26, 2011
Hovet Arena, Stockholm, Sweden.

22 minutes documentary of the Muaythai/K-1 fight between Yodsaenklai Fairtex and Artur Kyshenko on Rumble of the Kings, November 26;th 2011 in Stockholm - Sweden.
The fight can be watched live on PPV through streaming on www.rumbleplay.com.
For more information please visit www.rumbleofthekings.com
MatchMaking
Main Fights (3x5 - MMA)
Ray Sefo (NZ) vs Jorgen Kruth (SWE)
Co-Main Fight (3x3 - MT/K1 Modified rules)
Yodsaenklai Fairtex (THA) vs Artur Kyshenko (UKR)

Super-Fights
Bruno Carvalho vs Marius Zaromskis

Chahid Oulad El Hadj vs Dzhabar Askerov
WMC Nordic "4Man" Tournament
(3x3 - Muaythai - Welterweight)

PASI LUUKHANEN vs SANNY DAHLBECK
RASSAN MUHAREB vs MARTIN AKHTAR