Thai Boxe Mania 2012 - Kyshenko vs Cocco - Trailer Video.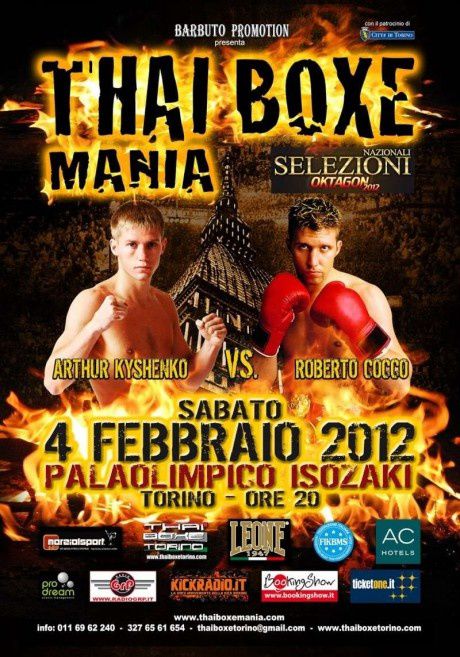 Thai Boxe Mania 2012
February 04, 2012
Palaolimpico Isozaki, Torino, Italy.
WATCH UFC 143 FREE LIVE STREAMING HERE !
L' édition 2012 du galas Italien Thai Boxe Mania 2012 et maintenant officielle. le vainqueur de Yodsaenklai fairtex lors du Rumble of the Kings 2011, Artur Kyshenko (47W-9L-1D), combattra contre l' Italien Roberto Cocco (97W-37L-4D) en super-fight.
Le tres prometteur Bielorruse Yuri Bessmertny vainqueur de Sudsakorn Sor.Klinmee et du tournois Fight Code de 2011 sera opposé à Gago Drago.
Fight Card:
Artur Kyshenko vs Roberto Cocco

Yuri Bessmertny vs Gago Drago

Erkan Varol vs Chingiz Allazov

Sharos Huyer vs Fabio Siciliani

Alexandru Popescu vs Paolo Fiorio

Davide Mosca vs Rocco Simoncini

Davide Longoni vs Luca Panto

Marco Re vs Mustapha Haida

Julian Imeri vs Christian Zahe

Adi Petrisor Catana vs Shan Cangelosi

Filip Rzadek vs Filippo Solheid

Filip Hryeniewicki vs Francesco Palermo

Ivano Saviero vs Patrick Carta

Donatella Panu vs Veronica Vernocchi

Gozdzicki Allan vs Vladimir Ionescu

Cristian Milea vs Leonardo D'auria