Yodsaenklai Fairtex - Interview on Fight Career and ThaiFight Extreme in Hong Kong.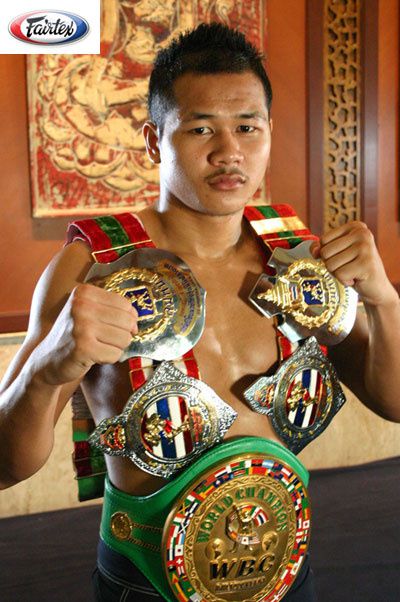 Yodsaenklai Fairtex
Interview June 20, 2011
World ranked Muay Thai fighter Yodsanklai Talking about his fight career, his upcoming fights, and his future in the sport. Yodsaenklai's manager Ted Okunu served as the transaltor in our dialogue. It is very intersting to speak with a highly regarded champion such as Yodsaenklai and hear his reasons for beginning to fight, and his inspiration. As Ted pointed out to us "some of the answers may seem a bit simple. Please keep in mind most Thais do not fight for the same reasons as westerners. As they fight from a very young age of around seven years old for means to an end (fighting for their families for money)."

MTA: You are one of the most popular Muay Thai fighters, have had a very accomplished career and you are only 25 years of age. What are your career goals at this point?

Yodsaenklai: I will keep fighting for another year or two at this time and plan to open my own gym up country and finish building our family home.

MTA: You are rumored to be fighting Karim Ghajji on the July Thai Fight Extreme card in Hong Kong. How much do you know about Karim as far as his Muay Thai skills go?

Yodsaenklai: I have never heard of him and do not know anything about him.

MTA: Karim Ghajji has fought mainly in Kickboxing, which of course is not the same as Muay Thai. When fighting someone from a Kickboxing background under full Muay Thai rules do you see it as an additional advantage?

Yodsanklai: It doesn't matter to me as I fight Muay Thai and will fight to the best of my abilities.

MTA: Last year you fought 9 times, this year by the time that July ends you will have only fought 3 times. Is there any particular reason that it seems you are going to be fighting less this year?

Yodsaenklai: I will have four fights as May 14th I had one fight in Cannes, I will fight twice in China on June 11th and 18th and July 17 th in HK. I currently have 9 fights scheduled for the year not including the Premier League fights. Ted speaking "The reason is we are waiting for many promotions that have been delayed. Muay Thai Premiere League is one that is beginning with a project budget of 250 million baht. They will have the best fighters in the world competing in this competition. They will be launching this event on June 2nd with a press conference in Bangkok.

MTA: Are there any fighters that you would like to fight in the near future?

Yodsaenklai: I would like a rematch with Andy Soweur.

MTA: You have fought all over the world, however, you have not competed in the United States. Would you like to, and do you have plans of eventually competing in America?

Yodsaenklai: Yes, I would love to fight in America. No plans at the moment but the fight purse is very small in America.

MTA: As far as Americans go, internationally not many are considered a threat. In your expert opinion where do Americans rank in Muay Thai? Are they no threat at all, decent, or a threat?

Yodsaenklai: Americans are still new to Muay Thai at the moment and do not have much international exposure. I think in time Americans will be very competitive in Muay Thai. I think the Dutch, French, English and Australians are the most competitive countries now. As Muay Thai is a much bigger sport in those countries. I am sure there are great Muay Thai fighters in America but they are not on the international fight circuit. So we do not get to challenge them.

MTA: What would you state is the main reason you started fighting Muay Thai?

Yodsaenklai: To support my family and make money for them.

MTA: If you never trained Muay Thai what do you think you would be doing as a profession today?

Yodsaenklai: I dont know what I would be doing as I have been doing Muay Thai my whole life.

MTA: You have been in so many great battles, what would you say is your motivation to continue fighting?

Yodsaenklai: My mother she is my inspiration and I must support her.

MTA: Being that you have had hundreds of fights, and your legacy in Muay Thai seems to be cemented already, when do you think you will decide to retire?

Yodsaenklai: Hopefully within the next two years.

Since this interview was conducted the June 11th event in Nangchan, China was cancelled due to protests, however, on June 18th Yodsanklai defeated Fran Palenzuela at China Fight Night via KO in the second round.
By MuaythaiAuthority