WMC I-1 World Muay Thai Grand SLAM 2010 - WMC "4-Man" Tournament.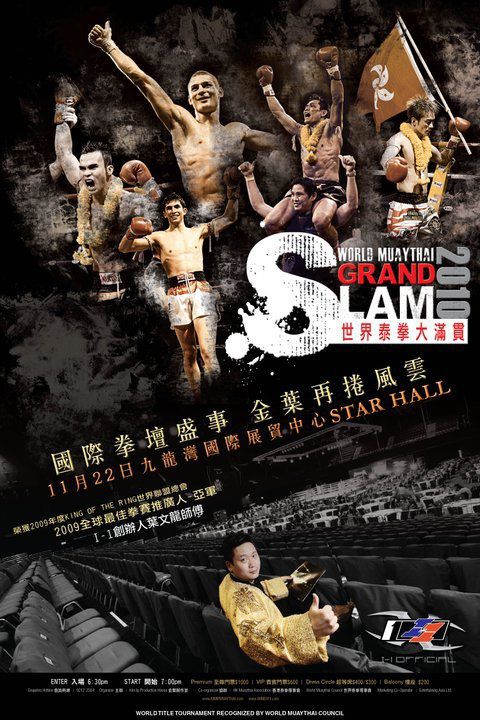 WMC I-1
World Muay Thai Grand SLAM 2010.

22 November 2010
Int. Trade & Exhibition Center, Hong Kong, China.
WMC I-1 World Muaythai Grand SLAM 2010

will be held in Hong Kong International Trade & Exhibition Centre (Star Hall) on 22 November 2010.
The Main Event is the

World Title Super-4 of 72kg

category.
The 4 champions from 4 different countries competing for the world title are:
Vladimir Moravcik

(Slovakia), a.k.a. "Dracula", the World Champion of the first I-1 Grand SLAM.
Cyrus Washington

(USA), a.k.a. "The Great", WPMF International Champion and current Myanmar Bare-hand Fight Champion.
Thiago Teixeira

(Brazil), a.k.a. "Parapapa", Z-1 Super-4 World Champion.
Andreas Rogner

(Germany), a.k.a. "Suakaw", current Champion of Southern Thailand.



Tickets are available at HK Ticketing's box offices and All Tom Lee Music Outlets
Ticket Purchase Hotline:31 288 288
Tickets Enquires No: 92122584
Internet Booking : http://www.hkticketing.com/eng/
FightCard
WMC World "4-Man" Tournament Title
(FMR - 72 Kg)
Vladimir Miravcik

VS

Thiago Teixeira

Cyrus Washington
VS
Andreas Rogner

Super- Fights

Bryan To

VS
Philippe Landreville
Antoine Pinto
VS
Ratchakolm Chalermchon

Maros Pacan

VS
Yodkurman MTP 2004
Valdet Gashi
VS
Saenchai Swish

Umut Demirors

VS
Vladmir Konsky
Neon Lai
VS
Chan Chun Yin

Cheng Man Yiu

VS
Lee Yiu Lun
WMC I-1 World Muay Thai Grand SLAM 2010