WEC 52 - FABER VS MIZUGAKI - STREAMING - Matchmaking.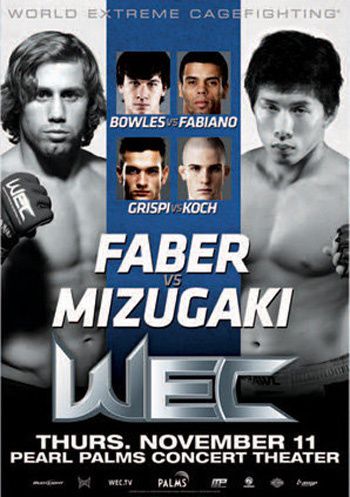 WEC 52
November 11 2010
The Pearl at the Palms, Las Vegas, USA.
WEC 52 -

Related News :

Urijah Faber was originally scheduled to make his bantamweight debut against Japanese striker Takeya Mizugaki at WEC 50. However, Faber was forced off the card with an injury. As a result, Mizugaki was also pulled from the event.
A bout between Bart Palaszewski and Kamal Shalorus was expected to take place at this event, but the bout is now targeted for December at WEC 53 after Shalorus injured his hand.
Brian Bowles was expected to face Wagnney Fabiano at this event but was forced off the card with an injury and replaced by Joseph Benavidez
Eddie Wineland was expected to face Damacio Page at this event, but Wineland was forced out of the bout with a shoulder injury and replaced by Demetrious Johnson.
Josh Grispi was pulled from his fight with Erik Koch, to be inserted into a UFC Featherweight title shot against

Jose Aldo

. Koch will now face Francisco Rivera.
FIGHTCARD
Main Card

Urijah Faber

VS

Takeya Mizugaki

Chad Mendes
VS
Javier Vazquez

Erik Koch

VS

Francisco Rivera

Joseph Benavidez
VS
Wagnney Fabiano

Damacio Page

VS

Demetrious Johnson

Preliminary Card

Raphael Assunçao

VS

LC Davis

Anthony Njokuani

VS
Edward Faaloloto
Zach Micklewright
VS

Dustin Poirier



Clint Godfrey
VS
Michael McDonald

Cub Swanson

VS

Mackens Semerzier

Yves Jabouin
VS
Brandon Visher

WEC 52 - Faber Vs Mizugaki.