WEC 52 - FABER VS MIZUGAKI - Results - Swanson Vs Semerzier for fight of the Night !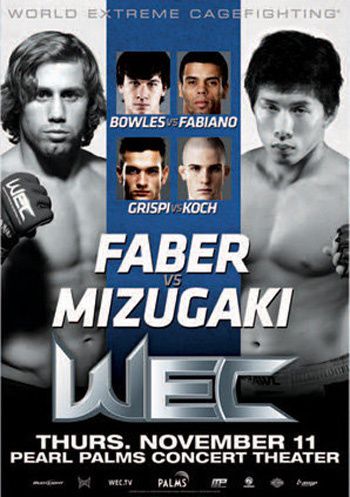 WEC 52
November 11 2010
Pearl Palms Concert, Las Vegas, USA.
WEC 52 -

Related News :

WEC 52 - Results
Main Card

Urijah Faber

VS

Takeya Mizugaki

Faber def. Mizugaki via Sub (Rear Naked Choke) Rd1 4:50.
Chad Mendes
VS
Javier Vazquez

Mendes def. Vasquez via Unanimous decision (30-27;30-27;30-27).
Erik Koch

VS

Francisco Rivera

Koch def. Rivera via TKO (Strikes) Rd1 1:36.
Joseph Benavidez
VS
Wagnney Fabiano

Benavidez def. Fabiano via Sub. (Guillotine) Rd2 2:45.
Damacio Page

VS

Demetrious Johnson

Johnson def. Page via Sub (Guillotine) Rd3 2:27.

Preliminary Card

Raphael Assunçao

VS

LC Davis

Assunçao def. Davis via Unanimous decision (30-27;30-27;30-27).
Anthony Njokuani

VS
Edward Faaloloto
Njokuani def. Faalototo via TKO (Strikes) Rd2 4:54.
Zach Micklewright
VS

Dustin Poirier



Poirier def. Micklwright via TKO (Punches) Rd1 0:53.
Clint Godfrey
VS
Michael McDonald

McDonald def. Godfrey via Sub (Armbar) Rd1 2:42.
Cub Swanson

VS

Mackens Semerzier

Swanson def. Semerzier via Unanimous decision (29-28;29-28;29-28).
Yves Jabouin
VS
Brandon Visher

Jabouin def. Visher via Unanimous decision (30-27;30-27;30-27).
Bonus Awards (Fighters were awarded $10.000 Bonuses)
Fight of the Night:
Swanson vs Semerzier
KO of the Night:
Erik Kosh
Sub of the Night:
Urijah Faber
WEC 52 - Faber Vs Mizugaki- Results.