UFC Undisputed 3 Video Game - New PRIDE mode ! Set for 2012.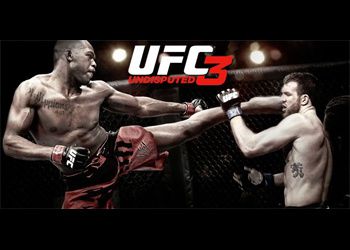 UFC Undisputed 3 2012

After releasing the first two editions of the UFC "Undisputed" video game franchise in 2009 and 2010, the organization and THQ skipped 2011 to add new features and tweak the gameplay, and now they've announced that the game will return in January 2012 as UFC Undisputed 3 on the Xbox 360 and Playstation 3.

There are some big changes this time around, as they have added the featherweight and bantamweight divisions as well as a new "PRIDE Mode," which will allow players to play in the famed Japanese organization, with a ruleset that allows stomps, soccer kicks and knees to the head of a grounded opponent. PRIDE mode will also feature commentary by the former PRIDE team of Bas Rutten and Stephen Quadros.

The fight roster will feature around 150 playable characters, as well as a new submission system, simplified gameplay controls, and updated graphics and presentation - which includes fighter walkouts and new camera angles. Check out some of the features per the UFC Undisputed website, as well as some screenshots from the game below:


UFC Undisputed 3, takes you inside the Octagon, delivering intense UFC action focused on brutal toe-to-toe combat, impressive visual presentation, increased accessibility and raw fight emotion.

UFC Undisputed 3 ups the intensity with the addition of PRIDE Mode, a brand new submission system, new ways to finish the fight and increased accessibility through both traditional and simplified gameplay controls that, along with significanlt enhanced visuals, new camera positions and personalized fighter entrances, let you step right inside the Octagon.

UFC Undisputed 3 also lets you take the fight to your friends with a significantly improved online feature set, including new and updated offerings, delivering the most competitive and engaging MMA experience to date.


PRIDE MODE
The no-holds-barred Japanese MMA league brings with itbrutal soccer-style kicks, head stomps and ground knees to the head.
FINISH THE FIGHT
Take your opponents down with punishing new moves, a brand new submission system and increased focus on presentation.
FROM BROADCAST TO CAGE-SIDE
Experience the intensity of UFC with new camera positions, compelling fighter entrances, improved facial animations and a gritty, high contrast appearance.
GAMEPLAY ACCESSIBILITY
Get right inside the Octagon with simplified gameplay control options, brutalizing opponents after stepping into the cage for the first time.
EXTRAORDINARY ROSTER
More than 150 of the most intense UFC fighters, including the addition of Featherweight and Bantamweight divisions.
EXTENSIVE ONLINE OFFERING
A significantly revamped online experience, including both new and updated features, rounds out the best competitive fighting experience to date for the franchise.
DREAM JAPAN GP