UFC: Fight For Troops 2 - Melvin Guillard vs Evan Dunham Video Weigh-ins - Streaming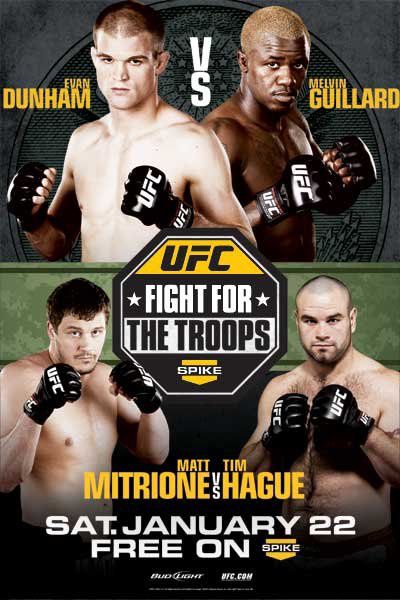 UFC:

Fight For Troops 2

January 22, 2011
Fort Hood, Killeen Texas, USA.
FIGHTCARD - STREAMING
The bout between Kenny Florian and Evan Dunham was expected for UFC 126, but was moved to this card to serve as the main event. On December 6, however, Florian pulled out of the bout due to a knee injury. Melvin Guillard has been pulled from a planned preliminary bout with Yves Edwards and will now face Dunham in the main event. Edwards will remain on the card and instead face TUF 12 alumnus Cody McKenzie.
A lightweight bout between Cole Miller and Matt Wiman, which was originally scheduled to take place at UFC 125, has been moved to this event.
Video Weigh ins
UFC: Fight For The Troops 2 weigh-ins videos