TOP ACTION - Fight Night 7- 9000€ "8man" K-1 Tournament in Belgium !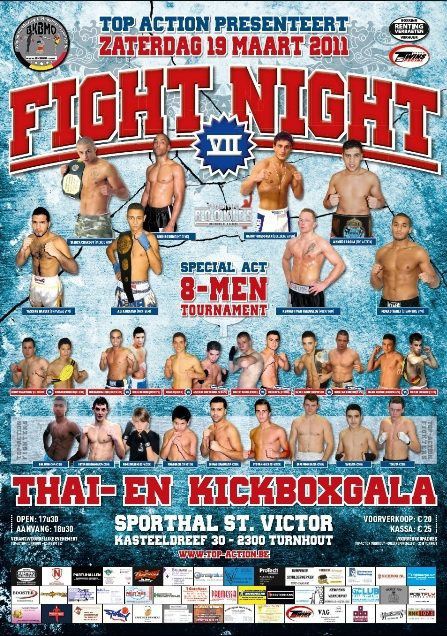 TOP ACTION
FIGHT NIGHT 7


March 12, 2011
Sporthal ST Victor, Turnhout, Belgium.
TOP ACTION present FIGHT NIGHT VII with a "8 Man" tournament with some of the best Belgium and Netherlands fighters !

The winner will get 9000 € prize and a possibly participation for the K-1 MAX qualification !
"8Man" Tournament
( K-1 - 3X3 - 70Kg MAX)

Ahmed Zragua


(Top Action)

VS

Morad Sahli


(Champions Gym)



Harut Grigorian


(BullDogs)



Ali Abrayem


(MPJ Team)



Kenneth Van Heesvelde


(Rocky Gym)



Yannick Cherguy


(Yacko's Gym)



Gino Bourne


(MT Genk)



Yassine Baitar


(Universal Gym)



Belgium Championships

Mo Abdi


(Siam Ni)



VS

Azzedine Bouzzamour


(Said Gym)



Vincent Gloris


(XTreme)



VS

Ykup Kaya
(MT Genk)

King Of The Ring - Super-Fights

Salah Ellahoui


(Champions Gym)



VS

Robert Van Nimwegen


(Os Gym)



Buray Bozaryilmaz


(All Fid Gym)



VS

Hicham Moujtahid


(MT Genk)



Super-Fights (B Class)

Souliman Challouki


(Universal Gym)



VS

Chabouni


(Bushido's)



Khabir Azzedine


(Universal Gym)



VS

Vincent Everaert


(Celtix)



TOP ACTION