TK2 World Max 2011 - FIGHT CODE Dragons Tournament - Full results and Videos.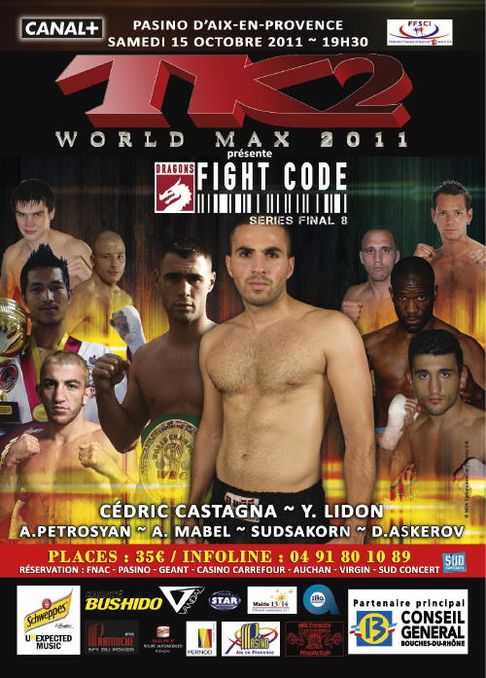 TK2 - FIGHT CODE

October 15, 2011
Pasino, Aix en provence, France.

FIGHT CODE Dragons Tournament - Quarter-Final
Sudsakorn sor Klinmee (Tha) vs Halim Issaoui (Mar)
Sudsakorn def. Issaoui via TKO in RD3

Abdallah Mabel (Fra) vs Xu Yan (Chi)
Mabel def. Yan on points

Armen Petrosyan (Arm) vs Jury Bessemrtny (Bela)
Bessemrtny def Petrosyan on points

Bruno Franchi (Ita) vs Norbert Balogh (Hun)
Balogh def. Franchi via DQ in RD2

FIGHT CODE Super-Fights
Chyngiz Alazov (Bela) vs Raouf Beliouz (Fra)
Alazov def. Beliouz on Points

Cedric Castagna (Fra) vs Sofiane Derdega (Fra)
Castagna def. Derdega on Points
Watch full Fight Code event videos Here !
TK2 WORLD MAX Tournament (Kick-Boxing)
Final
Ait Said (NL) vs Chris Van Venrooij (NL)
Van Venrooij def. Ait Said on points and Win the TK2 2011 Tournament.

Final 4
Enrike Gogoya vs Ait Said (NL)
Ait Said def. Gogoya on points

Johan Beausejour (Fra) vs Chris Van Venrooij (NL)
Van Venrooij def. Beausejour on Points

Final 8
Enrike Gogoya vs Ismail Uzuner (Tur)
Gogoya def. Uzuner on Points

Yazid Boussaha vs Ait Said (NL)
Ait Said def. Boussaha on points

Chris Van Venrooij vs Farhat Ahmedjanov (Bela)
Van Venrooij (NL) def. Ahmedjanov on points

Mohamed Medhar (NL) vs Johan Beausejour (Fra)
Beausejour def. Medhar on points
Reserve Fight
Tarek Guermoudi (Fra) vs Anthony Tachouaf (Fra)
Tachouaf def Guermoudi on points

TK2 Prestige Fights
Philippe Salmon (Fra) vs Willy Borrel (Fra)
Salmon def. Borrel on points

Walid Haddad (Fra) vs Niklas Larsen (Dan)
Haddad def. Larsen on points

Fabrice Aurieng (Fra) vs German Talbot (Fra)
Aurieng def. Talbot on Points