The Voice vs Sugar Ray Leonard - Video Full.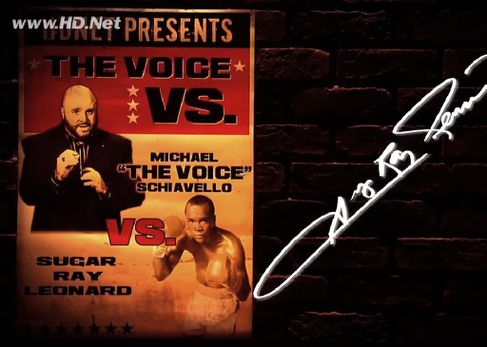 The Voice vs
Sugar Ray Leonard

The Voice VERSUS series returns with its most intense and powerful show to date. The Voice of HDNet, Michael "The Voice" Schiavello goes one on one with retired boxing legend Sugar Ray Leonard, in this hour long television event.

The Voice" Michael Schiavello visits a place where Thomas Hearns, Roberto Duran and Marvin Hagler have been before him — head to head with Sugar Ray Leonard. This time it's Schiavello throwing the punches with hard hitting questions and Sugar Ray Leonard doing what he does best: bobbing, weaving, dancing and delivering one knockout blow after another with his amazing and candid answers. Filmed at Sugar Ray's house in Pacific Palisades, LA and Aired on HDNET on Friday, August 19th, 2011 at 10 PM ET.