The Shock - Muay Thai & K-1 - Armen Petrosyan Vs Marco Pique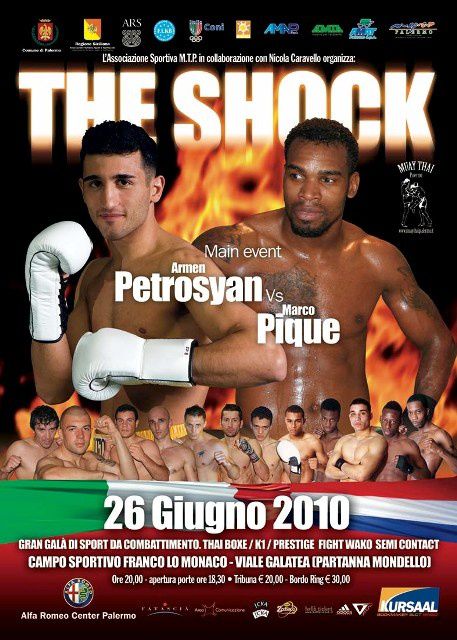 THE SHOCK
26 June 2010
"Franco lo Monaco" Sport Center , Palermo , Italia .
Muay Thai & K-1 Event in Sicilia.

The main event is the internationnal fight between the Giorgio petrosyan brother 's Armen Petrosyan and Marco "The Sniper" Pique.

Marco Pique (50W - 24L - 1D) is the :

WFCA World Champion
(72.5 kg - 2009)
,
WMC Intercontinental Champion (72.5 kg - 2009)
K-1 World Max Europe tournament finalist (2009)

Armen Petrosyan (47W -5L)
Fighters Card
Main Event
( Muay Thai Rules.)

Marco Pique

VS
Armen Petrosyan
Others Fighters

Raul Pozo de Salas

Paul and Daniel Nicolosi Nicoletti

...

The Shock - 26 june 2010 - Muay Thai & K-1 - Armen Petrosyan Vs Parco Pique . tHE
article OB std