The Challenger MuayThai - The New Contender Asia is set for September 2011.

The

Challenger

MuayThai

September 15, 2011
Asia World Arena, Hong Kong, Hong Kong
.
Who Will Rise To The Challenge?

Produced by the Imagine Group and The Group Entertainment, under supervision of the World Muaythai Council (WMC), the world's governing body for the sport of muaythai, the reality competition series will be set and shot in Malaysia. Whether for glory or gain, 16 world-class fighters will fight it out to win the ultimate title of Muaythai World Champion and the grand prize of US$100,000! The fighters have been hand picked from a selection of international professional fighters from the WMC 128 member countries.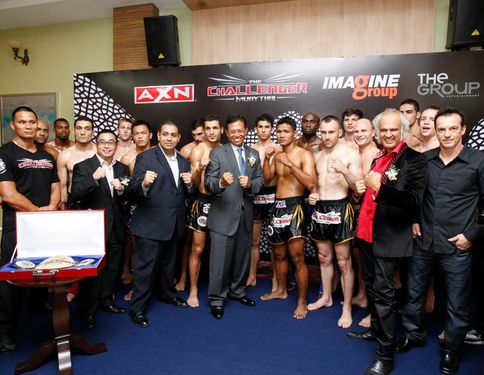 From Malaysia, Thailand, to Israel and South Africa, the motley crew of fighters trail blaze an impressive track record both in their countries and in the international arena, with numerous championship titles under their belts. With ages ranging from 18 to 35, the calibre of fighters is certainly unparalleled. Some have started their training since the tender age of seven, while others have fought The Contender Asia champion Yodsanklai and even won. With intimidating monikers like 'The Cheetah', 'The Sniper' and 'Black Dynamite', it is clear that the boys are not in town to play. With such high stakes, each and every fighter will not go down without a fight!

The Challengers:
Antoine

Pinto

Cedric

Muller


Cyrus

Washington


Fadi

Merza


Frank

Giorgi


Ilya

Grad


Jason

Woodham

Jesse

Miles


Jordan

Watson

Marco

Pique

Mickael

Chase Corley

Mohd Faizal

Bin Ramli

Mostafa

Abdollahi


Pidsanu

Kunchat


Rhyse

Saliba

Vuyisile

Colossa

The Challenger Muay Thai will start to air on AXN on the 15th September 2011.
SERIES STRUCTURE
12 x 1 hour episodes
1 x 2 hour live season finale
Asia Broadcast Platform:
AXN (22 countries, prime time with 2 repeats each week)