The Challenger Muaythai - S01EP01- Video Recap. Michael 'Chase' Corley vs Vuyisile Colossa "The Cheetah" .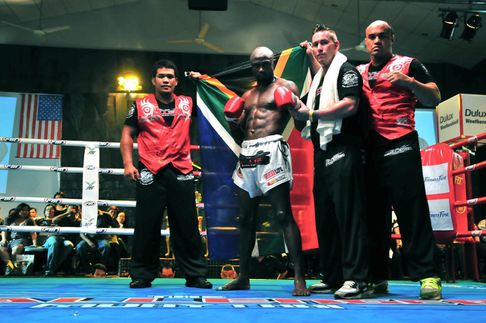 The Challenger Muaythai

S01EP01 - September 15, 2011
Malaysia
The first episode of "The Challenger Muaythai" was released this Thursday, October 15 on the channel AXN Asia and was about the battle between the American Michael 'Chase' Corley and the representative of South Africa Vuyisile Colossa. here in a summary video of this fight.
The Challenger Muaythai S01EP02 - Preview.
Some words from Michael Corley about his fight against Vuyisile Colossa.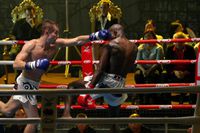 Hi Michael, for those who do not know you yet, can you introduce yourself.
Hello, my name is Michael Chase Corley, i'm 26 yrs old, im from Spring, TX, i have Around 30 fights and i train with the CSA/TX Team.

How was your fight, were you at ease during this fight, you managed to take your marks?
I felt good during the fight mentally, but my legs were not very strong. My legs were weak from running off the Kilo's I should have came to the show in better shape. Colossa fought a smart fight and had great boxing.
What were your impression at the end of this fight ?
I felt pretty bad after the fight, I felt that I had let down American Muay Thai a little bit. I wanted to put on a better showing. Colossa came to the show in better shape and fought an excellent fight. I learned alot from this experience and hope to come back a stronger fighter from it.
What's next for you at Challenger Muaythai ?
I hope that the show does well and promotes Muay Thai to the mainstream. I will be back stronger in my next fights !
Want you to says sometihing else or thanks someone ?
I'd like to thank GOD! thank all my training partners - Ted Okuno - All that have supported me! Contact me anytime! texasmuaythai@aol.com
thank you to Stefan Fox and the WMC too!
Thank you Michael for those few words, good luck for the future !
ITW by Olivier Angelini.