Thailand Vs Middle East - Samranchai 96 Peenung Vs Mostafa Abdollahi.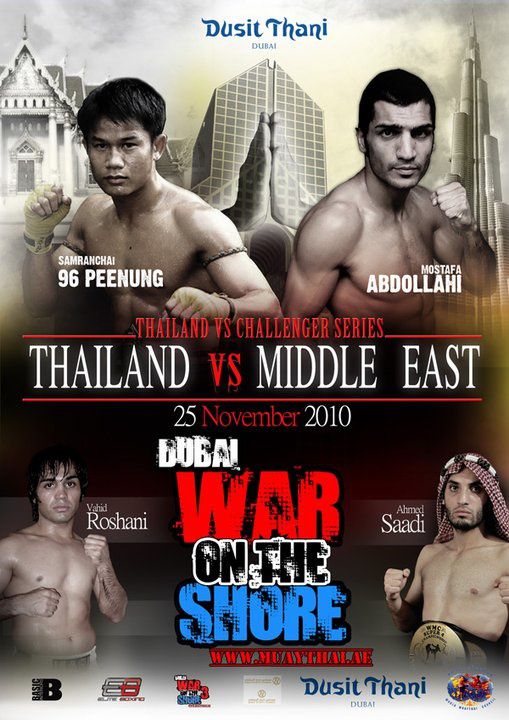 THAILAND

Vs

MIDDLE EAST

November 25, 2010
Dusit Thani Dubai Hotel, Dubai.
Thailand Vs Middle East -

Related News :

| | | |
| --- | --- | --- |
| Videos | Results | Fight Card |
Dubai. October 12, 2010. Dubai Sport Council, Martial Arts Academy (Dubai, UAE) and Dusit Thani Dubai are pleased to announce, that the renowned Muaythai (Thai Boxing) Championship " War on the Shore-3" is finally back to Dubai.
With the huge support of the World Muaythai Council (WMC), with the presence of the best fighters and world champions in Muaythai from all over the world, with the wide broadcasting at the leading international sport TV channels and a massive international, regional and local media coverage, the "War on the Shore-3" Championship will boost martial arts and sports activities in the UAE.
The 3rd round of the "War on the Shore" Championship will take place on November 25, 2010, in Dusit Thani Dubai Hotel in frames of the Cultural Days of Thailand, held in association with the Thailand Embassy to the UAE and a General Consulate of Thailand in Dubai and Northern Emirates.
Mr. Vladimir Burdun, President of the "Martial Arts Academy" and "War on the Shore-3" Promoter said: "We are delighted to bring to Dubai the best sportsmen and the most spectacular kind of sport for the third entire time. We are sure, that with the support of all our partners and spectators, "War on the Shore" Championships would become one of the most successful sport events in Dubai. We invite all admirers of martial arts to attend this bright and spectacular event and to witness themselves who will become the new Champion of Muaythai in the Middle East".
For tickets and other inquiries, please, contact:
Dusit Thani Hotel Dubai, +971 4 3433333
FIGHTCARD
WMC Middle East Super Welterweight Title

Zidov Dominik

VS

Antuan Siangboxing

Super-Fights
(Full Muay Thai Rules - 5x3)
MIDDLE EAST
THAILAND
Mostafa Abdollahi

VS
Samranchai 96 Peenung
Vahid Roshani
VS

Yodvisanu Sor. Kittichai



Ahmed Saadi
VS
Ja Maw Phumphanmuang


Others Super-Fight

Mostafa Said Hassan
VS

Daniel Nuamah



Anas Arab Alsamraee
VS
Gadzhimirza Osmanov

Tahseen Takleh
VS

Magomed Idigov



Thailand Vs Middle East.