Thailand Vs Germany - Kaoklai Kaennorasing and Nonsai in Germany.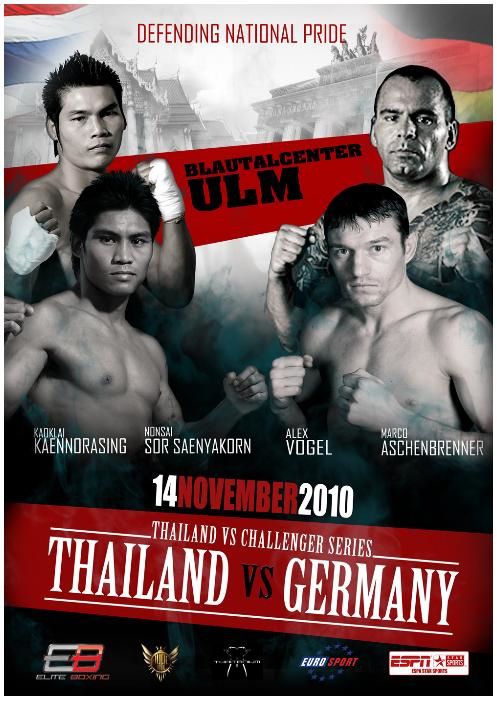 THAILAND

Vs.

GERMANY



November 14, 2010




Blautal-Center, ULM, Deutschland.



Elite Boxing has now announced the details of one more event in theThailand vs. Challenger (2010) Series. In November, Elite Boxing will take two members of the Thai TVC Team to Ulm in southern Germany to defend national pride against a very strong German muaythai team in an event co-promoted by Elite Boxing and Hype FC.

An exciting evening of muaythai is guaranteed with a world-class fight card that includes five Hype FC Super Fights, two Thailand vs. Germany match-ups, and one Hype FC World Title Fight.

Thailand vs. Germany will be the sixth instalment of the inaugural TVC Series and the second TVC event held outside Thailand. As part of Elite Boxing's strategy of increasing TVC's penetration into local markets by building partnerships with leading promoters in key locations around the world, the Thailand vs. Germany event will be co-promoted with German muaythai promotion company Hype FC.

In addition to Mekong Dreamfights and Dodge Fight Night, Ulm-based Hype FC is the third muaythai promotions company run by Serdar Karaca. With over 25 successful muaythai events across Germany under his belt, Serdar has a proven track record and is seen as the ideal partner to help TVC raise its profile in the potentially huge German market.

Having grown up in Reutlingen, just 20 minutes away from Ulm, this will be almost a case of going home for Elite Boxing's managing director, Toli Makris. "Muaythai is very big in Germany, and I'm very proud to be taking a Thai team back to the country I grew up in," the Greek immigrant who has now made a name for himself in Thailand told us.

Thailand vs. Germany will be held in the city of Ulm, which is most famous for being the birthplace of Albert Einstein and the home of the tallest church in the world. The scenic city of 120,000 straddles the Danube River in southern Germany, between Munich and Stuttgart.

As with earlierpromotions by Hype FC, the Thailand vs. Germany event will take place in the city's Blautalcenter shopping complex.
FightCard
HYPE FC W.F.C.A. European Title
(K-1 - 5x3)
Yavus Kayabasi
VS


-72.5Kg

Leroy Kaestner

Super-Fights
(Full MuayThai Rules - 5x3)

THAILAND

GERMANY

Kaoklai Kaennorasing
VS


-81Kg

Marco Aschenbrenner

Nonsai Sor. Sanykorn



VS


-72.5Kg

Alex Vogel
TBA
VS


-61.5Kg

Bjorn Schaufler

Super-Fights
(Thaiboxing Rules - 5x3)

Fadi Merza

VS
-71.5Kg
Shemsi Beqiri
Super-Fights
(K-1 Rules - 3x3 + ext.1R)

Bob Von Boxmeer

VS
-95Kg
Danyo Ilunga
Vahlt Aslan
VS
-67Kg
Daniel Oepen
Thailand vs Germany - 2010