THAI FIGHT EXTREME - Japan - Fight Card - Promo video.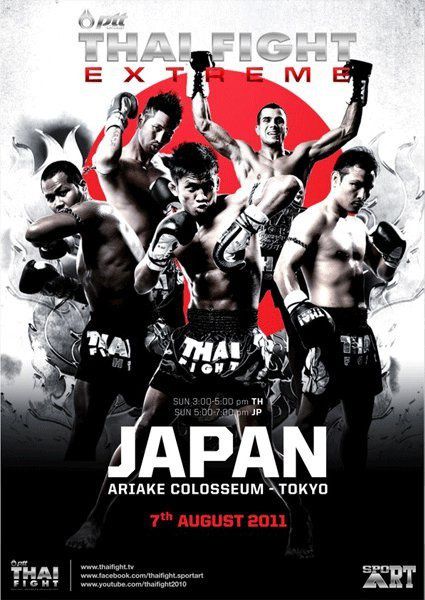 THAI FIGHT EXTREME

August 07, 2011
Ariake Coloseum, Tokyo, Japan.
Thai Fight's goal is to promote in other countries the exciting and non stop action of Muay Thai style boxing and to show its greatness.
They will accomplish this by sending the best last generation Muay Thai boxers to fight against a team of foreign Muay Thai boxers.This event will be held under the name of "Thai Fight Extreme". Having this event in another country will ultimately show the world that
'Muay Thai" is the greatest of martial arts. A team of Thai boxers, fighting on behalf of " Thai Fight", will take on a selected team of Muay Thai Foreign boxers.

This event will be held on Sunday 7th of August 2011 in Ariake Colosseum - JAPAN.
First round starting time in JAPAN 17.00: , will be broadcast live from Ariake Colosseum - JAPAN on Thai TV channel 3 in Thailand at 15.00.
FIGHT CARD
-67kg: Saiyok Phunphanmuang VS Koh Suman
-70kg: Sudsakorn Sor Klinmee VS Tomoyuki
-75kg: Yohan Lidon VS Akihiro Gono
-73kg: Yodsenklai Fairtex VS Yasuhito Shirasu
-70kg: Buakaw Por Pramuk VS Tomaki Makino
-67kg: Fabio Pinca VS Yuya Yamato
-70kg: Adil Kodja VS Yoichi Yamazaki