THAI FIGHT 2011 - 67kg and 70kg "8man" Tournament with Fabio Pinca, Kem Sitsongpeenong and Buakaw Por Pramuk - Streaming.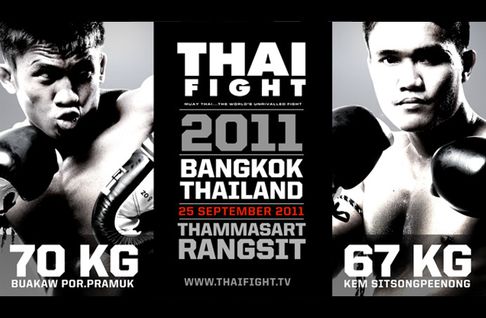 ---
THAI FIGHT 2011
September 25, 2011
Thammasart Rangsit, Bangkok, Thailand.
---
The most spectacular Muay-Thai event will be back on September 25, 2011 in Thailand.
The THAI FIGHT organisation announced two "8Man" tournament with the better nakmuays of the world in 67kg and 70kg.
Schedules:

September 25, 2011 - STEP ONE

Qualification for the Semi-Finals (67kg & 70kg)
October 24, 2011 - STEP TWO

Qualification for the Finals (67kg & 70kg)
November 27, 2011 - FINAL

The Finals (67kg & 70kg)
All Steps will be retransmitted on Thailand Channel 3 (TV3).
For peoples who don't live in Thailand you can watch it for free HERE.
---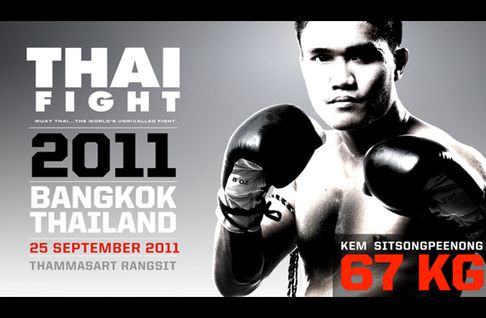 THAI FIGHT "8Man" 67kg Tournament.
For this tournament the fighters are:
1 Fabio Pinca (French). Fabio Pinca is the winner of the THAI FIGHT tournament 2010.
2 Kem Sitsongpeenong (Thailand). Kem Sitsongpeenong win the ISUZU 21 Cup.
3 Houcine Bennoui (Algeria).
4 Mosab Amrani (Holland). IT's Showtime Fighters.
5 Ibrahim Chiahou (Morocco).
6 Alessio Angelo (Italia).
7 Lim Chin Bin (South Korea).
8 Yokohama Shigeyuki (Japan).
The Draw:
Lim CHIN BIN vs Fabio PINCA
Kem SITSONGPEENONG vs Yokoyama SHIGEYUKI

Mosab AMRANI vs Houcine BENNOUI

Ibrahim CHIAHOU vs Alessio ANGELO
---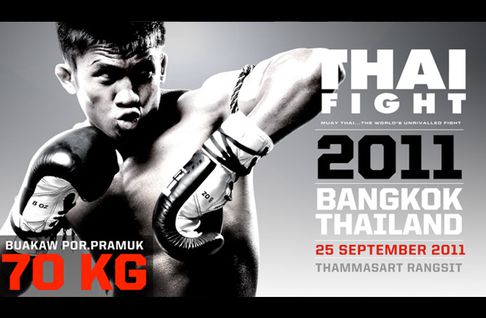 THAI FIGHT "8Man" 70kg Tournament.
For this tournament the fighters are:
1 Buakaw Por Pramuk (Thailand). Buakaw is "THE" best nakmuay in his category and is the former K-1 World MAX Champion.
2 Adraham Roqueni (Spain). Abraham is the outsider, he recently won against Gago Drago (Holland) and Andy Souwer.
3 Mickael Piscitello (French). Mickael is the WPMF 70kg World champion.
4 Vuyisile Colossa (South Africa). Vuyisile was qualified for the KING's CUP 2010.
5 Hicham Chaibi (Morocco)
6 Hafid el Boustati (Holland)
7 Jose Barradas (Portugal)
8 Nishikawa Tomoyuki (Japan)
The Draw:
Buakaw POR PRAMUK vs Hicham CHAIBI
Mickael PISCITELLO vs Hafid EL BOUSTATI
Jose BARRADAS vs Vuyisile COLOSSA
Abraham ROQUENI vs Nishikawa TOMOYUKI