THAI BOXE MANIA 2011 - Giorgio Petrosyan win over Sudsakorn in K-1 modified Rules.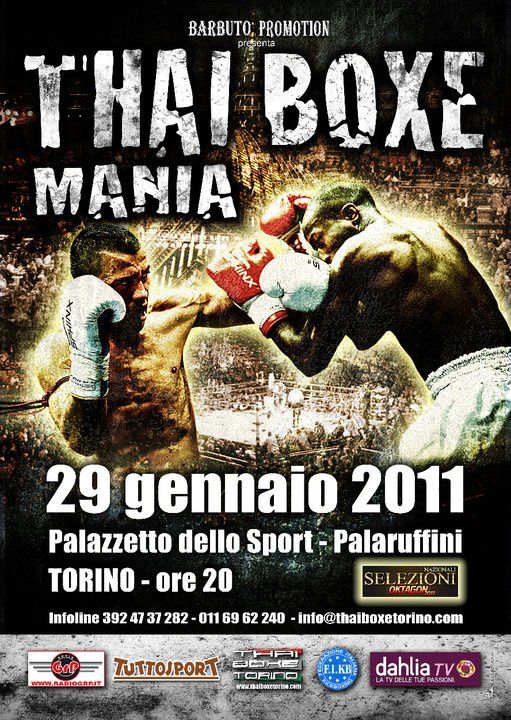 THAI BOXE MANIA


January 29, 2011
Palezzo Dello Sporto,
Torino
, Italy.
BARBUTO PROMOTION
Official Website
Results
Giorgio Petrosyan

VS
-70Kg
Sudsakorn 13Coin Gym
Petrosyan def. Sudsakorn via decision.

Kaopon Lek

VS
-66Kg
Andrei Kulebin

Kaopon Lek def. Kulebin via decision.
Vladimir Shulyak
VS
-72.5Kg
Abdallah Mabel
Mabel def. Shulyak via KO Rd3.


Abdallah Mabel is qualified for the quarter-final of Fight Code Tournament.

Armen Petrosyan
VS
-72.5Kg
Miodrag Olar

Petrosyan def. Olar via decision.

Milan Dasic

VS
SHW
Lucian Danilencu

Danilencu def. Dasic via decision.

Amadou BA

VS
-65Kg
Federico Pacini
Pacini def. Ba via decision.
Maldin Hamzai
VS
-72.5Kg
Paolo Fioro

Fioro def. Hamzai via decision.

Alessandro Alias

VS
-65Kg
Loris Audoui
Audoui def. Alias via decision.

Shan Cangelosi

VS
-70Kg
Lorenzo Mosca

Mosca def. Cangelozi via decision.
thai boxe mania 2011 - Results