SUPERKOMBAT WGP 2 - Mighty MO, Ciobanu, Brestovac, Jaideep for Final 4 - Free Streaming.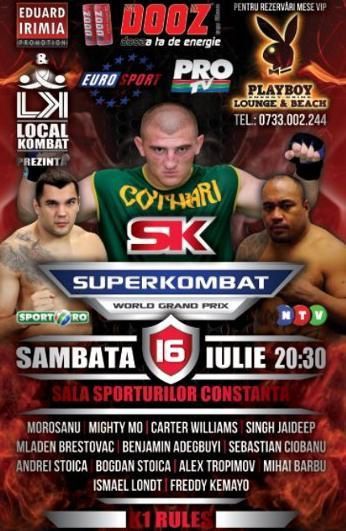 SUPERKOMBAT WGP 2


July 16, 2011
Sala Sporturilor, Constanta, Romania
.
SuperKombat World Grand Prix II is an upcoming kickboxing event promoted by the SuperKombat organization. It is scheduled to take place on July 16, 2011 at the Sala Sporturilor in Constanța, Romania.
The show will be televised in 83 countries. Eurosport will have it as live broadcast as usually. Brad Vee Johnson will be the ring announcer of the evening.
WATCH SUPERKOMBAT 2 FREE LIVE STREAMING HERE !

---
MATCH MAKING
OPENING FIGHT
SJEF HENSELS(OLANDA) VS ALEXANDRU POPESCU (ROMANIA)
OPENING CEREMONY
1.RESERVE FIGHT TOURNAMENT
CARTER WILLIAMS (USA) MARIAN IORDAN (ROMANIA)
2.SEMIFINAL +96 KG 3X3
SEBASTIAN CIOBANU (ROMANIA) VS ISMAEL LONDT (OLANDA)
3.SEMIFINAL 2 +96 KG 3X3
MIGHTY MO (USA) VS MLADEN BRESTOVAC (CROATIA)
4.SUPERFIGHT -73 KG 3X3
ALEX TROPIMOV (ISRAEL) VS MIHAI BARBU (ROMANIA)
5.SUPERFIGHT -92 KG 3X3
BOGDAN STOICA (ROMANIA)VS HAKAN AKSOI (TURKEY)
6.SUPERFIGHT -92 KG 3X3
ANDREI STOICA (ROMANIA) VS HENRIQUES ZOWA (ANGOLA)
7.SUPERFIGHT +96 KG 3X3
BENJAMIN ADEGBUYI (ROMANIA) VS JOACHIM THOMAS (FRANCE)
8.SUPERFIGHT +96 KG
CATALIN MOROSANU (ROMANIA) VS STEFAN LEKO (GERMANY)
9.FINAL TOURNAMENT +96 KG 3X3
WINNER SEMIFINAL 1 VS WINNER SEMIFINAL 2