STRIKEFORCE - Diaz VS Santos and Souza vs Lawler for title bout!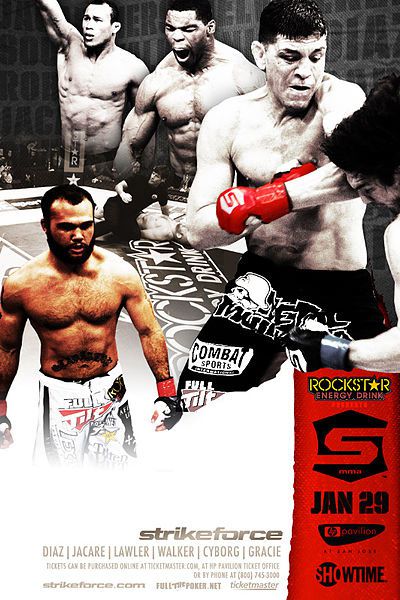 STRIKEFORCE
January 29, 2011
HP Pavillon, San Jose, California, USA.
Strikeforce

-

Related News :

Strikeforce: Diaz vs. Cyborg, is an upcoming mixed martial arts event held by Strikeforce. The event is scheduled to take place on January 29, 2011 at the HP Pavilion in San Jose, California, United States. The event will air live on the Showtime cable network.
FightCard
StrikeForce Welterweight Championships Bout.

Nick Diaz

(C)

VS

Evengelista Santos

StrikeForce Middleweight Championships Bout.

Ronaldo Souza

(C)

VS
Robbie Lawler

Main Card

Herschel Walker
VS
Scott Carson
Roger Gracie
VS

Trevor Prangley

Preliminary Card

Nate Moore
VS
Nathan Coy
Bobby Stack
VS
Isaiah Hill
Ron Keslar
VS
Eric Lawson
Germaine de Randamie
VS
Stephanie Webber
James Terry
VS
Lucas Gamaza
Jenna Castillo
VS
Charlene Gellner
StrikeForce: Diaz Vs Santos