OKTAGON 2011 - Giorgio Petrosyan vs Cosmo Alexandre - F. Pinca vs A. Kulebin.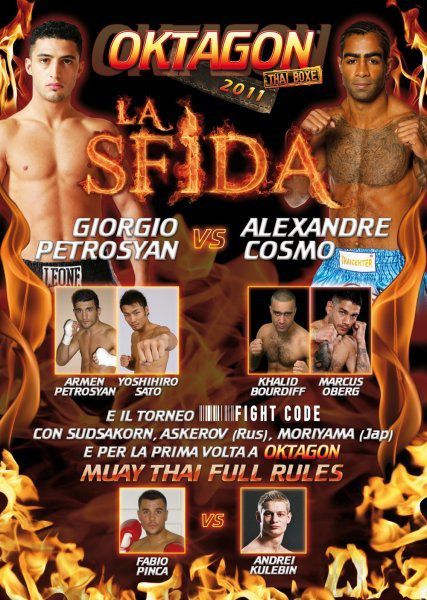 OKTAGON 2011


March 12, 2011
Pala Sharp, Milano, Italy.
OKTAGON 2011

Like always, OKATGON Promotion will give us a big event in Milano (Italy) with some of the best k-1 and Thai Boxe Fighter in the World !

The main figth will opposed the current K-1 MAX Champion Giorgio "The Doctor" Petrosyan against the last It's Showtime World Champion and King's Cup 2009 Champion Alexandre Cosmo. This fight had never happened yet and will be THE Fight for Giorgio Petrosyan. In fact, Alexandre Cosmo normaly fight in 74-77kg and is a very strong fighter (He loses against Yodsaenklai Fairtex in the final of the King's Cup Tournanment 2010).

Other big fight, the bout between Fabio Pinca and Andrei "Bullet" Kulebin. Fabio "Fabiulous" Pinca is the current WBC World Muay Thai Champion (63.5Kg) and the winner of the THAI FIGHT World "16-Man" Tournament (66.7Kg). Andrei Kulebin is 12x Time World Champion (I-1, WAKO,WMF,WKN) Andrei had fought 146 times and win 136 (53 KO).For the first time in an OKTAGON event, the bout will be in Full Muay Thai Rules !

Armen Petrosyan will fight against K-1 superstars, Yoshihiro Sato who participated at the K-1 Max 2010 Final 8.

The event also many have bout of the
FIGHTCODE "16 Man" Tournament (Dragon).

3 Fights for the 1/8 Final are announced for This Event. Two man are already qualified : Abdallah Mabel (FRA) and Armen Petrosyan (ITA).
the last part (the third) of the 1/8 will be the 30 April 2011.
Infoline 02/3315458 – www.oktagon.it
Biglietti € 35 tribuna - € 80 bordo ring
Prevendite: Accademia Europea Via Melzo 9 tel 02/29409080 – www.ticketone.it – www.vivaticket.it
Main Fight

Giorgio Petrosyan (ITA)

VS
70Kg

Alexandre Cosmo (BRA)
Main Card

Angelo Campoli (ITA)
VS
66Kg

Andrei Kulebin (BY)
Yoshihiro Sato (JAP)
VS
70Kg

Armen Petrosyan (ITA)
Khalid Bourdif (NL)
VS
70Kg

Marcus Olberg (swe)
Daniel Sam (GB)
VS
HW

Luca Panto (ITA)
Chynhiz Alazau (BY)
VS
65Kg

Frederico Pacini (ITA)
Philippe Salmon (FRA)
VS
70Kg

Alessandro Campagna (ITA)
Fight Code 1/8 Final (Step 2)
(FIGHTCode Rules - 3x3 - 72.5 Kg MAX)

Dzhabar Askerov (RUS)
VS
Chris Van Venrooij (NL)
Sudsakorn Sor Klinmee (THA)
VS
Xu Yan (CHN)
Bruno Franchi (ITA)
VS
Takuro Moriya (BRA)
OKATGON 2011 - Previews