MuayThai Premier League - "Stars and Tripes" - Trailer and FightCard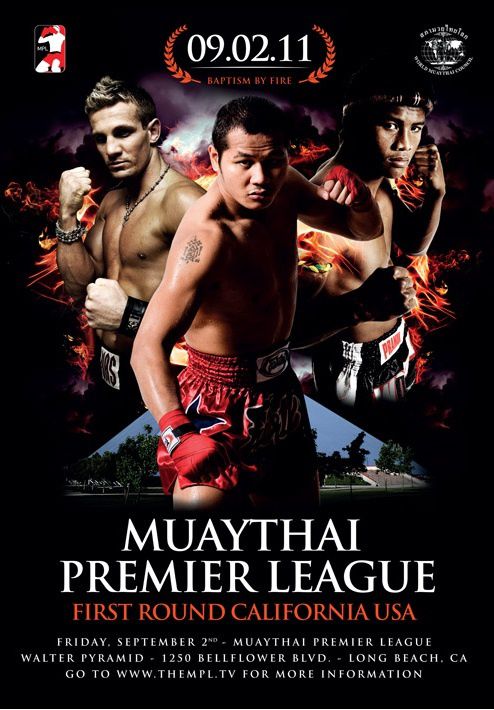 MuayThai
Premier League

September 02, 2011
Walter Pyramid, Long Beach, USA.
MuayThai's Worldwide appeal over the last years has grown tremendously in popular culture with the aid of Film, Television, Video Games, Books, and the hard work of the World MuayThai Council. The WMC, the world governing body for professional MuayThai, and IFMA, the International MuayThai Federation regulating the Amateur world.
The next step for MuayThai is to reach the goal of getting IOC recognized; something MuayThai truly deserves. For this to become a reality, we will need to work together to establish many projects and initiatives to reach the requirements of the International Olympic Committee: adequate in and out of
competition doping tests, youth and female development, and much more.
As part of this process, it is also important for us to build a campaign to spread the art and sport of MuayThai beyond its committed and hardcore fans. It is our goal to reach the average sports fan and fitness practitioner, both male and female, from all social classes and backgrounds. For this to happen, MuayThai must reach pop culture through Television and the Silver Screen. This is why Warrior Caste Productions is launching the biggest event in the history of MuayThai: The MuayThai Premier League (The MPL).
The MPL will include the largest prize money in MuayThai history, and top level live event and television production, including a documentary series entitled "Into the Fire".
8 League events will be held beginning in Los Angeles, California in September and continuing throughout the world including Amsterdam, Beijing, Australia, and of course the home of the sport, Thailand. The season will run until May, and begin again the following September for Season 2.
40 of the World's best competitors (32 Male, 8 Female) in a total of 5 weight divisions, have been selected from around the world to be a part of the league. Representing their countries with pride, all competitors are superstars in their own right.
Fight Card:

WMC World Title Fight
Buakaw Por.Pramuk (THA) vs. Warren Stevelmans (RSA)
WMC Intercontinental Title Fight
Baxter Humby (USA) vs. Zidov Dominik (SUI)

League Bouts:

Middleweight 160lb (72.5kg)
Group A - Yodsanklai Fairtex (THA) vs. Yohan Lidon (FRA)
Group B - Marco Pique (SRM) vs. Nieky Holken (NED)

Women's Super Lightweight 140lb (63.5kg)
Group A - Valentina Shevchenko (PER) vs. Angelique Pitiot (FRA)
Group B - Julie Kitchen (UK) vs. Martina Jindrova (CZE)

Welterweight 147lb (66.7kg)
Group A - Mehdi Zatout (FRA) vs. Denis Schniedmiller
Group B - Bout TBA

Heavyweight 210lb (95kg)
Group A - Nathan Corbett (AUS) vs. Tomas Hron (CZE)
Group B - Martin Jahn (GER) vs. Filip Verlinden (BLG)

Light Heavyweight 182lb (82.5kg)
Group A - Simon Marcus (CAN) vs. TBA
Group B - Levin Artem (RUS) vs. Roberto Cocco (ITA)