MuayThai Premier League - "Stars and Tripes" - Full Results.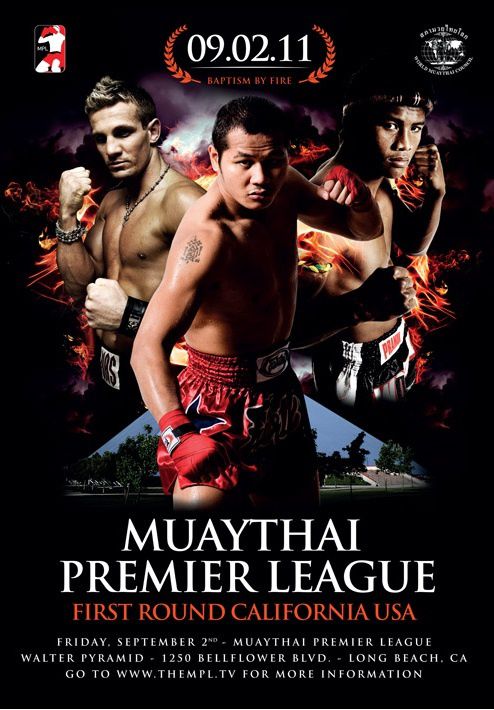 MuayThai
Premier League

September 02, 2011
Walter Pyramid, Long Beach, USA.
Fight Card:

WMC World Title Fight
Buakaw Por.Pramuk (THA) vs. Warren Stevelmans (RSA)
Buakaw def. Warren Stevelmans via (T)KO at 1:59 of Rd. 4 (wins WMC junior middleweight title)
WMC Intercontinental Title Fight

Baxter Humby (USA) vs. Zidov Dominik (SUI)
Baxter Humby def. Zidov Domenik by KO at 1:40 of Rd. 1 (Humby wins WMC Intercontinental Title)

League Bouts:
Middleweight 160lb (72.5kg)

Group A - Yodsanklai Fairtex (THA) vs. Yohan Lidon (FRA)
Canceled
Group B - Marco Pique (SRM) vs. Nieky Holken (NED)
Nieky Holzken def. Marco Pique by Majority Decision

Women's Super Lightweight 140lb (63.5kg)

Group A - Valentina Shevchenko (PER) vs. Angelique Pitiot (FRA)
Valentina Shevchenko def. Angelique Pitiot via Split Decision
Group B - Julie Kitchen (UK) vs. Martina Jindrova (CZE)
Julie Kitchen der. Martina Jindrova via Unanimous Decision

Welterweight 147lb (66.7kg)

Group A - Mehdi Zatout (FRA) vs. Denis Schniedmiller
Denis Schniedmiller def. Mehdi Zatout via Split Decision
Group B - Leo Monteiro (BRA) vs. Michael Dicks

Michael Dicks def. Leo Monteiro via Unanimous Decision (30-27 all three judges)

Heavyweight 210lb (95kg)

Group A - Nathan Corbett (AUS) vs. Tomas Hron (CZE)
Nathan Corbett def. Tomas Hron by KO at 2:38 of Rd. 1
Group B - Martin Jahn (GER) vs. Filip Verlinden (BLG)
Filip Verlinden def. Martin Jahn via (T)KO (Doctor Stoppage) at 3:00 of Rd. 1

Light Heavyweight 182lb (82.5kg)

Group A - Simon Marcus (CAN) vs. Artem Vakhitov (RUS)

Simon Marcus def. Artem Vakhitov via Unanimous Decision
Group B - Levin Artem (RUS) vs. David Keclik

Artem Levin def. David Keclik via KO (Knee) at 2:28 of Rd. 3
Next turn of the MPL League Round 2 is set for October 08, 2011 in Italy.