MuayThai Premier League - Round 3 in Netherlands - Khamal - Lidon - Corbett - Kitchen.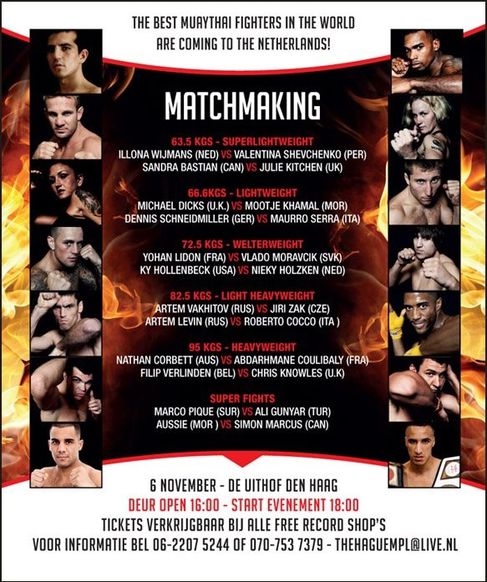 The MPL - Round 3
November 06, 2011
The Hague, Netherlands.
ROUND 3 - DEN HAAG - HOLLAND
The MuayThai Premier League's third exciting event "BLOOD & STEEL" will be in The Hague, Netherlands. Never before has such a full card of the world's top MuayThai talent been together on Dutch soil.
November 6, 2011 promises to be an explosive and stunning evening, with fights featuring Nathan Corbett, Nieky Holzken, Simon Marcus, Artem Levin and many, many more. The league is well under way, and the points are adding up.
Come out on Sunday, November 6 in The Hague, Netherlands!
MATCHMAKING
63.5KG - SUPER LIGHTWEIGHT
VALENTINA SHEVCHENKO (PER) VS ILONA WIJMANS (NED)
JULIE KITCHEN (UK) VS SANDRA BASTIAN (CAN)
66.6 KG - WELTERWEIGHT
DENIS SCHNEIDMILLER (GER) VS MAURO SERRA (ITA)
MOHAMED KHAMAL (MOR) VS MICHAEL DICKS (UK)
72.5KG - MIDDLEWEIGHT
YOHAN LIDON (FRA) VS VLADIMIR MORAVCIK (SVK)
NIEKY HOLZKEN (NED) VS KY HOLLENBECK (USA)
82.5KG - LIGHT HEAVYWEIGHT
JIRI ZAK (CZE) VS ARTEM VAKHITOV (RUS)
ARTEM LEVIN (RUS) VS ROBERTO COCCO (ITA)
95KG - HEAVYWEIGHT
NATHAN CORBETT (AUS) VS ABDARHMANE COULIBALY (FRA)
CHRIS KNOWLES (UK) VS FILIP VERLINDEN (BLG)
SUPERFIGHTS FEATURING:
ALI GUNYAR (TUR) VS MARCO PIQUE (SUR)
SIMON MARCUS (CAN) VS AUSSI (MOR)