MFC 30 - Results - Marcus Davis and Brian Cobb takes the win.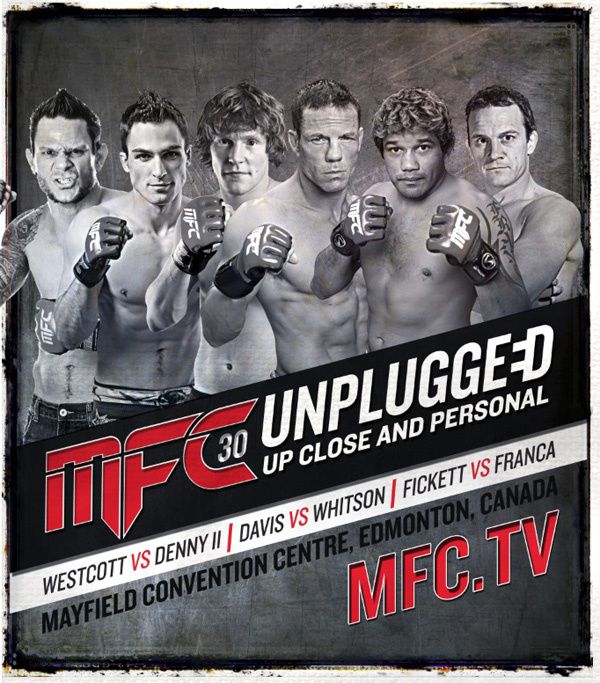 MFC 30
June 10, 2011
Mayfield Convention Centre, Edmonton, Alberta
, Canada
.
Results :
Televised on HDNet:
Fight 1 - Middleweight Bout
Andreas Spang wins by submission (guillotine choke) over Cody Krahn
Fight 2 - Lightweight Bout
Curtis Demarce wins a three round split decision (30-27, 28-29, 29-28) over Robert Washington
Washington was announced the winner but before the next bout started, the athletic commission overturned
the decision because the 30-27 score that was originally announced for Washington was supposed to be for
Demarce.
Fight 3 - Welterweight Bout
Dhiego Lima wins by TKO (strikes) at 2:47 of the first round over Jamie Toney
Fight 4 - 165 lb. Catch-weight Bout
Sheldon Westcott wins a three round unanimous decision (29-27, 29-27, 29-27) over Thomas Denny
In the third round, Wescott penalized a point for hitting behind the head.
Fight 5 - Welterweight Bout
Marcus Davis wins a three round unanimous decision (29-28, 30-37, 29-28) over Pete Spratt
Fight 6 - Lightweight Bout
Brian Cobb wins by TKO (strikes) at 4:44 of the first round over Drew Fickett
MFC 30