M-1 Grand Muay-thai Championship - Two news titles for the "King" Saenchai - Full Results.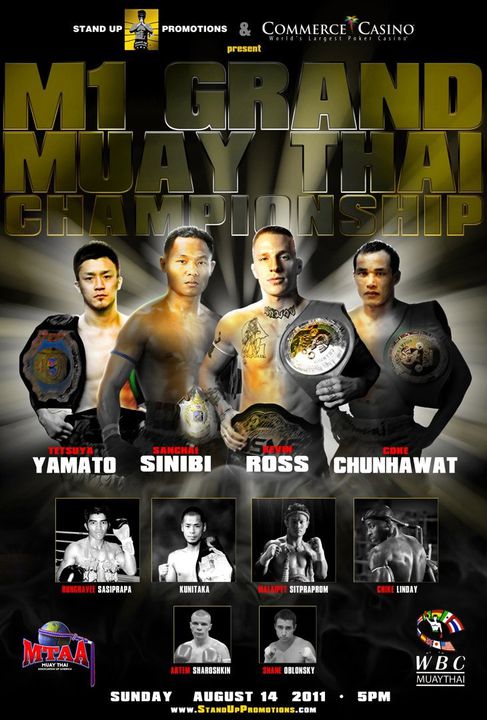 M-1
Grand Muay-thai Championship
August 14, 2011
Commerce Casino, Los Angeles, USA.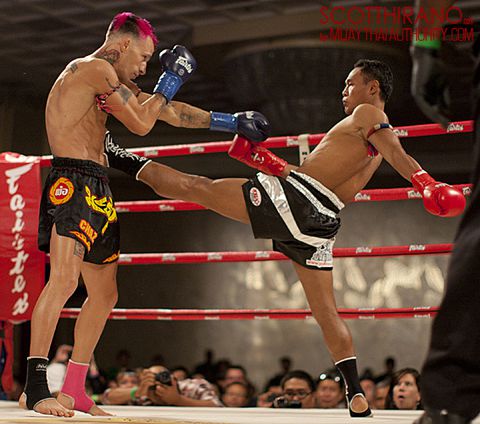 Quick Results:

Main Card

Saenchai def. Kevin Ross via Split Decision
Tetsuya Yamato def. Coke Chunhawat via (T)KO (cut) at 2:24 of Rd. 3
Rungravee Sasiprapa def. Kunitaka Fujiwara via (T)KO at 2:06 of Rd. 2
Chike Lindsay def. Malaipet via Split Decision
Daniel Kim def. Carlos Ramirez via KO at 1:41 of Rd. 3

Amateur

Victor Perez def. Marcos Guevarra via KO at 1:51 of Rd. 2
Glen Spencer def. Bryce Shepard via Split Decision
Alex Gonzales def. Jonathan Puu via Unanimous Decision
In the night's main event Kevin Ross and Saenchai came out to loud cheers from the crowd and they did no disappoint. It was clear from the start of the bout that Ross was looking to press the action and use his size and boxing to gain the upper hand. The very crafty Saenchai moved well around the ring and was able to mitigate Ross' by clinching or moving and connecting with counter strikes. Ross clearly showed he was game, never backing down from Saenchai and consistently pressing the action. Midway threw the fight a head kick from Saenchai sent Ross to the canvas, but he recovered quickly. Saenchai built a good lead for himself going into the final round and Ross came out swinging, but unfortunately for the American it was not enough as the fight ended up going to a decision. Two judges scored the fight for Saenchai 48-46 and the third judge scored it a draw at 47-47. Saenchai takes home a majority decision and the first ever WBC Muay Thai diamond belt, as well as his MTAA world title.

Ross can hold his head up high, because many did not give him a chance of beating Saenchai and many thought he wouldn't make it to the final bell. With a majority decision and a gutsy performance Ross proves once again why he is such a key figure in the American Muay Thai scene.

In the night's co-main event

Tetsuya Yamato and Coke Chunhawat

came out looking to get the upper hand as they each waited for their openings early. It seemed the fighters were looking to match each other strike for strike as they on several occasions exchanged leg kick for leg kick or body shot for body shot. Chunhawat seemed to be getting the upper hand midway through the second round and when the third round started it seemed he really started to pick up the pace and connect with elbows and kicks. Yamato, however, was able to cut Chunhawat and the referee stopped the bout to have a doctor look at Chunhawat's cut and the fight was stopped. It was an unfortunate ending to a fight that was starting to pick up in action. The win is huge for Yamato, while Chunhawat has now dropped two consecutive fights.



Rungravee Sasiprapa and Kunitaka Fujiwara

was an exciting fight as Rungravee came out looking to end Fujiwara's night early. It seemed Fujiwara was doing a decent job in the first round, but as the round closed a head kick from Rungravee dropped Fujiwara. The second round picked right up where the first ended with Rungravee looking to finish the fight. The aggression by Rungravee picked up in the second as he dropped Fujiwara with knees. Kunitaka was able to get up from the count and an elbow from Rungravee opened up Fujiwara, but it didn't matter because a right hook from Rungravee dropped him moments later. The referee stepped in and put an end to the bout as Rungravee wins the MTAA world featherweight title with a very exciting performance.
Source: MuaythaiAuthority.com