M-1 Grand Muay-thai Championship - Saenchai and Rungravee weigh-ins pictures.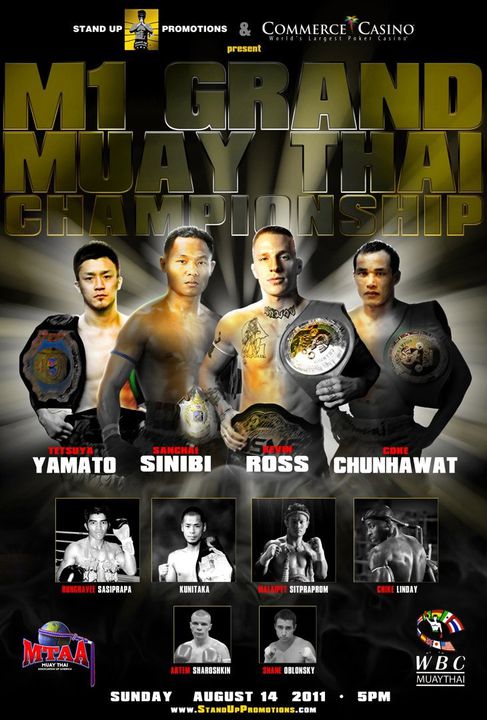 M-1
Grand Muay-thai Championship
August 14, 2011
Commerce Casino, Los Angeles, USA.
Stand Up Promotions "M1 Grand Muay Thai Championship" event is two weeks and the excitement by fans regarding the Saenchai vs. Kevin Ross bout continue to grow. The fight card, however, is great all around as Rungravee Sasiprapa, Coke Chunhawat, Malaipet Sasiprapa, and Chike Lindsay will also be in action that night. In total there will be five pro bouts and three amateur bouts.

Douglas Edwards will no longer be facing Shane Oblonsky. Edwards Fairtex teammate Daniel Kim is now set to face Oblonsky.
Fight Card:

MTAA World Title & WBC Muay Thai Diamond Belt fight
Saenchai Sinbimuaythai vs. Kevin Ross
Super-Fights
Pro:
Rungravee Sasiprapa vs. Kunitaka Fujiwara
Coke Chunhawat vs. Testuya Yamato
Malaipet Sasiprapa vs. Chike Lindsay
Daniel Kim vs. Shane Oblonsky

Amateur:
Marcos Guevara vs. Victor Perez
Glenn Spencer vs. Bryce Shepard
Jonathan Puu vs. Alex Gonzales