LUMPINEE 2011 - Movie Promo and treatment - By Chira Wichaisuthikul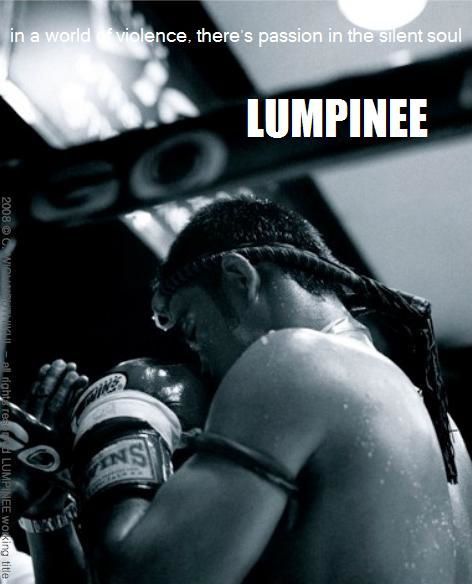 LUMPINEE
in a world of violence, there's passion in the silent soul
Destiny brings a group of hopeless kids into thai boxing world of violence. It may look like an unjust deed in some people's eyes. But thai Boxing is a two-sided coin in a Thai society. For these kids, it could mean an opportunity to flip their life's crisis into a chance. For them, it's all about passion, determination, and faith.
TREATMENT :
The story takes place at a boxing camp in a small community in southern Thailand. Destiny leads kids of varied backgrounds and purposes to travel to the boxing camp.
Some join the camp because they love boxing. Some are homeless drifters; impoverished, drug addicted, or charged with filching. Some simply need a shelter, kids who view Thai boxing as life's last resort.
They live together in this boxing camp that turns into a small society filled with both frienship and conflict - all centering and leaning on Thai boxing and Uncle Sak, the camp's owner. The boxing camp thus resembles a juvenile rehab home or a mental rehab center. It's strict rules of behavior and rigid boxing training serve as potent medicines in rectifying the kind's mind and body, and Uncle Sak loving kindness towards the kid's inspires them to look up to him as an adopter father. Uncle Sak, in turn, aims to breed the supreme Thai boxing from the south, so that one day his boxers could make their way up the rank and have the chance against Bangkok giant camp's boxers. His ultimate dream:
Lumpinee Stadium Thai Boxing Championship Belts.
A budding boxing life not only gives the kids a new life but also grants them the vision of hope. They open up their mind, revealing their dream, on a journey that the only thing available for them to hold on to is determination and faith. They journey ahead in a quest for victory and social acceptance, perhaps attainable in the short moment when the winner's hand is help up high on the ring,
the only life's greatest

merit they want to seize.
TECHNICAL INFORMATION :
Title : Lumpinee
Original Title : Lumpinee Interview With The Boxer
Production Company : Chiramix Co.,Ltd
Producer : Banphot Wudhiprecha
Director : Chira Wichaisuthikul
Filming Day : 180 days
Duration : 120 min
Format : HD, Color, stereo (Dolby SR)
Genre : Documantary
Language : Thai with English Subtitles
Filming Location : Thailand
Video Promo Lumpinee.
Lumpinee 2010 - Movie Promo and Treatment.