Jean Charles Skarbowsky on The Ultimate Fighter with GSP "The Rush".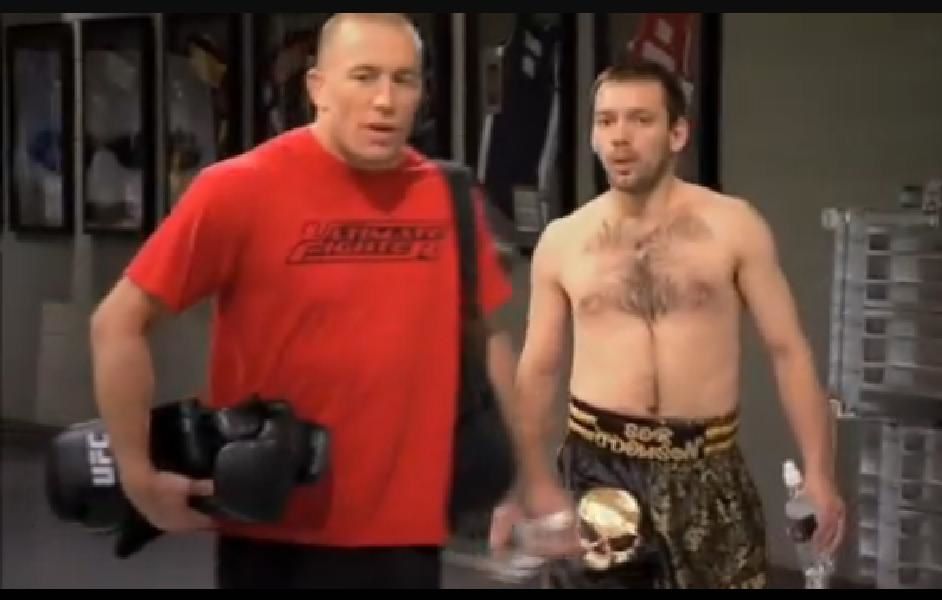 I don't watch the Ultimate Fighter much. I love MMA, but stopped watching The Ultimate Fighter, or "TUF" for you MMA lingo insiders, right around season 2. I do tune in for the fights but just grew tired of seeing guys bash their heads into walls, throw lawn chairs in pools, and piss on each others pillows.
Not that some of their antics aren't funny or that I don't have a sense of humor, but I just feel that this show is more about showcasing the "characters" on the show, then the sport itself. Sometimes I think the show does the exact opposite of what Dana White says he is trying to achieve with MMA. You know, that whole idea of showing that UFC fighters aren't thugs but rather professional athletes. And while some of the guys that appear on the show are definitely professional, there are others that just seem to help propagate the idea that all fighters are thugs, neanderthals, or whatever other name opponents of combat sports use to describe its participants.
Anyway, whoa, I went off on a tangent…okay well during yesterday's episode Georges St. Pierre brought in retired world class Muay Thai fighter Jean Charles Skarbowsky to spar with his team. Although most MMA fans may not know who Skarbowsky is, it was great to see a world class Muay Thai fighter such as Jean Charles showing some of these MMA newcomers a thing or two about the fine points of traditional Muay Thai. Skarbowsky has been in the ring with many Muay Thai greats such as John Wayne Parr, Buakaw Por Pramuk, Wanlop Sitpholek, and Nonthanan Por Pramuk, just to name a few. And kudos to GSP for bringing Skarbowsky on the show. Georges St. Pierre is a true champion and a hell of an athlete who is always seeking out some of the best fighters in every discipline in order to hone his craft. It's awesome that in this case he brought in a true nakmuay to show these young guns in MMA what Muay Thai is all about. Check out a clip from yesterday's episode below.
Jean Charles Skarbowsky on The Ultimate Fighter