ITW - Saiyok Phunphanmuang - 2011 - Don't stop Fighting !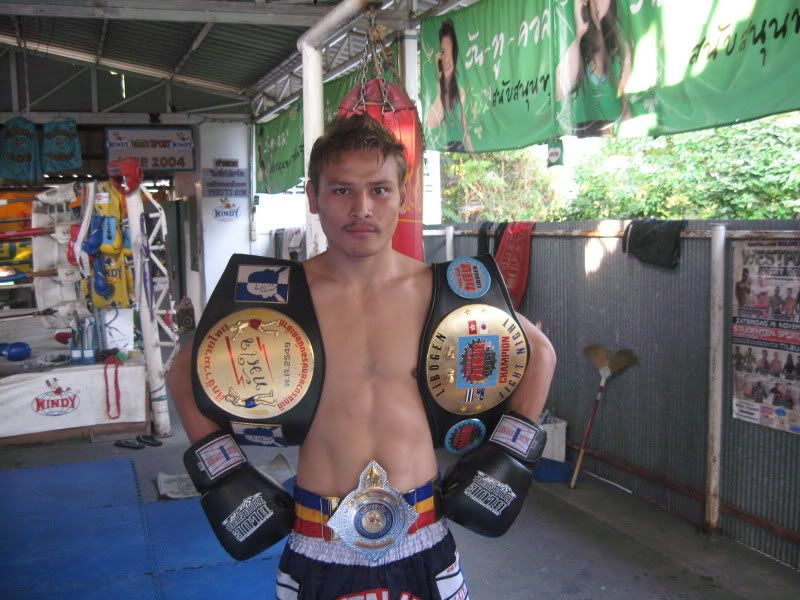 ITW
Saiyok Phumphanmuang


February 15, 2011
ITW Saiyok Phumphanmuang
February 15, 2011.

-What is Your real name?

-MR.SAKDA NIAMHOM

- How old are you?

-27 years old

-You come from of what region of the Thailand?

-I am come from Pisanulok Province Under Northern Thailand.

-You began the boxing at which age?
-I start Muaythai 11 year olds.

-How you discovered the boxing?
-My Father old Boxer I am have 3 Brother My big brother fight and My brother fight We 3 Brother fight every one.

-Your first fight you made for which age?
-I am Winner 3 Rounds 32 Kg. For money 200 Baht.

-You began Muay Thai in which camp?
- I start trainning in my home 15 year olds My Father send I go to SAKCHAINARONG GYM In KANCHANABURI Province.

-what age you came to Bangkok?
-I come trainning in Bangkok 24 Year olds.

-How long you stayed in the recent Bangkok Gym?
-I Start Trainning MTP/PERTTI on 2008-2011 about 3 Years.

-You have a room in the camp?
-No I rent Apartment closed gym about 300 Merts.

- In what weight category you fight?
-67-70 Kg.

-How much You weigh normally?
-Maximum 68-69 Kg.

-What are the titles and belts which you gained?

-Former 8Men Tournament 65 Kg.Super Tamchai Ch3
-Former Rajadamnean & WMC.140 lb.
-Former Thailand Champion 147 lb.
-Current Lumpinee Stadium 154 lb.
(+Elokuussa WMC-One Songchai Queens Birthday Belt)

-Your best memory of boxing until today?

I fight for 147 lb.Title belt The body not fit about 50% But I can beat the oppernent with elbow on Second Rounds he cut 18 sice.

-What are the known Thai fighters (that you faced?)
Thais Fighters a lot of good fighters Buakaw ,Yodsaenklai.

-What is for you the strongest foreign nakmuay?

Giorgio Pretosyan

-The best Thai boxer (at present) it is who for you?
SAMART PAYAJAROON

-What technique you love most in fight?
- With elbow and double Jumping Knee.

-Your next fight it is when?
16 April Hochimint City Vietnam
28 April in BKK,Thailand.
14 May in France
24 July in Shanghai China
7 August Tokyo Japan 3 Program in THAI FIGHT.

- What would you like to make after the boxing?
-I needs go to my home for make Flied rice &Farmming.

-You have been once also in Finland, did You like Finland?
-I like Finland toomuch I need come back Finland againd soon.
-what do you think about Finland nakmuay?
-Finland Fighters very good Muaythai Technich but good only Amature no have Professional Fighters.


Thank You for answers and good luck for next !