It's Showtime - Results - Rachid Belaini Win Kem Sitsongpeenong by KO.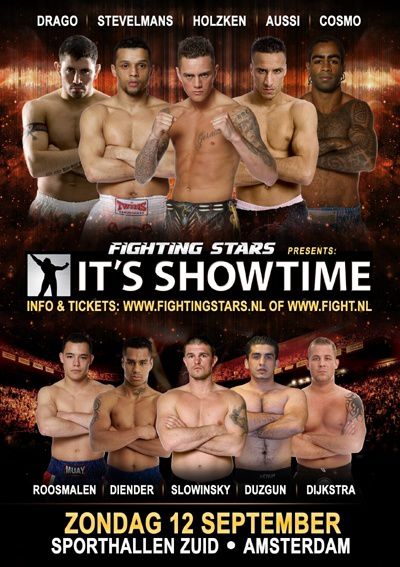 IT's Showtime !

12 Septembre 2010
Sporthallen Zuid , Amsterdam , Netherlands.
It's Showtime 34

-

Related News :

Sergio Wielzen Vs Mikael Peynaud :
1st round benefit to Sergio that well with hard punches and knees, Peynaud come back well but needs to be treated for a cut above his eye. Following discussions between ref and doc they decide that the party stops and gets Wielzen the party.
Mohamed Medar Vs Gago Drago :


Medhar win on points ,
Drago gets 8 count after a hard corner of Medhar and Drago are then saved by the bell, even as the game goes by Medhar seems sharper and Drago is empty ..
w

h

at a party!
Hesdy Gerges vs Rutsemi kreshnik :

In the second round Kreshnik can not stand hard pruning after a number of lowkicks Gerges and become the party stopped.
Kem sitsongpeenong Vs Rachid Belaini

First round of using shocks Belaini, second round, Kem down on a hard uppercut.
Lhoucine Ouzgi

win on

Nieky Holzken

by KO after a 8 count .
It's Showtime World Title Fight
(K-1 Rules - 61Kg MAX)

Sergio Wielzen




WIN "injury"

VS
Mikael Peynaud
Super-Fights
Lhoucine "Aussi" Ouzgi


WIN KO R1

VS
Nieky Holzken

Chris van Venrooy

VS
Mosab Amrani


WIN POINTS

Kem Sitsongpeenong

VS
Rachid Belaini


WIN KO R2

Volkan Duzgan

VS
Stefan Leko


WIN POINTS

Joep Beerenpoot

VS
Murthel Groenhart


WIN KO R1

Ramzi Tamaditi


WIN POINTS

VS

Imro Main

Mohammed Medhar


WIN POINTS

VS
Gago Drago
Rustemi Kreshnik
VS
Hesdy Gerges


WIN TKO R2

Robin van Roosmalen


WIN KO R3

VS
William Diender
Rico Verhoeven


WIN POINTS

VS
Ricardo Van Den Bos
It's Showtime 12-09-2010 - Results Play by Play -