It's Showtime - Kem Sitsongpeenong replace Mo Khamal , Gerges is Back!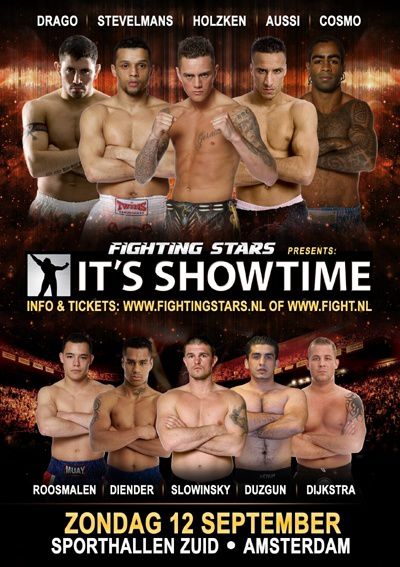 IT's Showtime !

12 Septembre 2010
Sporthallen Zuid , Amsterdam , Netherlands.
It's Showtime 34

-

Related News :

Kem Sitsongpeenong invited at It's Showtime !
Kem 'll replace Mo khamal and fight against Rachid Belaini in K-1 Rules.
Hesdy Gerges have a bout with Rustemi Kreshnik .

The Winner of The World Title Fight -61 Kg Max between

Mikael Peynaud and Sergio Wielzen

probably rematch in November For It's Showtime edition 44 in Greece .
It's Showtime World Title Fight
(K-1 Rules - 61Kg MAX)

Sergio Wielzen

VS
Mikael Peynaud

Super-Fights

Chris van Venrooy

VS
Mosab Amrani

Kem Sitsongpeenong

VS
Rachid Belaini

Volkan Duzgan

VS
Stefan Leko

Joep Beerepoot

VS
Murthel Groenhart

Ramzi Tamaditi

VS

Imro Main

Youness El Mhassani
VS
Leroy Kaestner
Lhoucine "Aussi" Ouzgi
VS
Nieky Holzken
Mohammed Medhar
VS
Gago Drago
Rustemi Kreshnik
VS
Hesdy Gerges
Robin van Roosmalen
VS
William Diender
Rico Verhoeven
VS
Ricardo Van Den Bos
It's Showtime edition 43 - Mikael Peynaud Vs Sergio Wielzen - 61 Kg MAX Title.