ISUZU CUP 22 - 8 "Man" Tournament with 1.000.000 baht and THAI FIGHT 2012 Qualifing prize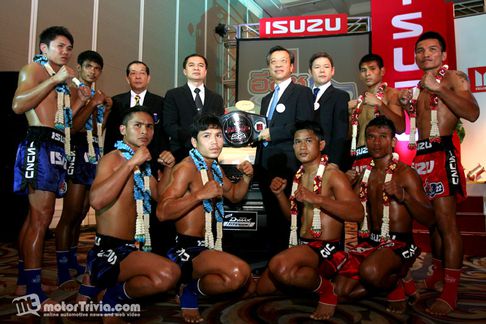 ---
ISUZU CUP 22
August 27, 2011
Omnoi Stadium, Bangkok, Thailand.
---
The 22nd "Isuzu Cup" will include 8 Muaythai stars competing against each other in the 145-147 pound category. The winner of the competition will receive big prizes including an "Isuzu D-Max Spark Super Titanium" pick-up truck and 1 million Baht in cash as well as the privilege of being the Thai representative in the big "Thai Fight 2012" program. The first match will be Noppakrit Hoi Mook Soy Sauce versus Ikkyusang Kor Rungthanakiat on 27 August, 2011 at Muay Siam Arena (Ormnoi).
Winner of ISUZU CUP 21 was Kem Sitsongpeenong won win against Nopparat Keatkhamtorn (Watch Video)

---
Prizes:
Winner:
ISUZU CUP 22 Belt
Isuzu D-MAX Spark Super Titanium (484,500 baht)
1,000,000 baht
Qualified for THAI FIGHT 2012 Tournament
Finalist:
500,000 baht
Third:
300,000 baht
Fourth:
200,000 baht
---
Group A
Noppakrit Namplatrahoymuk
Singhmanee Kaewsamrit
Ikuysang K. Rungthannakiat
Samranchai 96 Peenang
Group B
Saksurint Kafaesai
Saenchainoi Pumphanmuang
Superbon Lookjaomaasaewaree
Petchasawin Seatransferry
The first fight of the tournament will take place on August 27th and will be
Ikuysang K. Rungthannakiat vs. Noppakrit Namplatrahoymuk
WATCH ISUZU CUP 22 IN LIVE HERE !