IRON CHALLENGE - Zambidis defends his KOTR Title against Gunyar!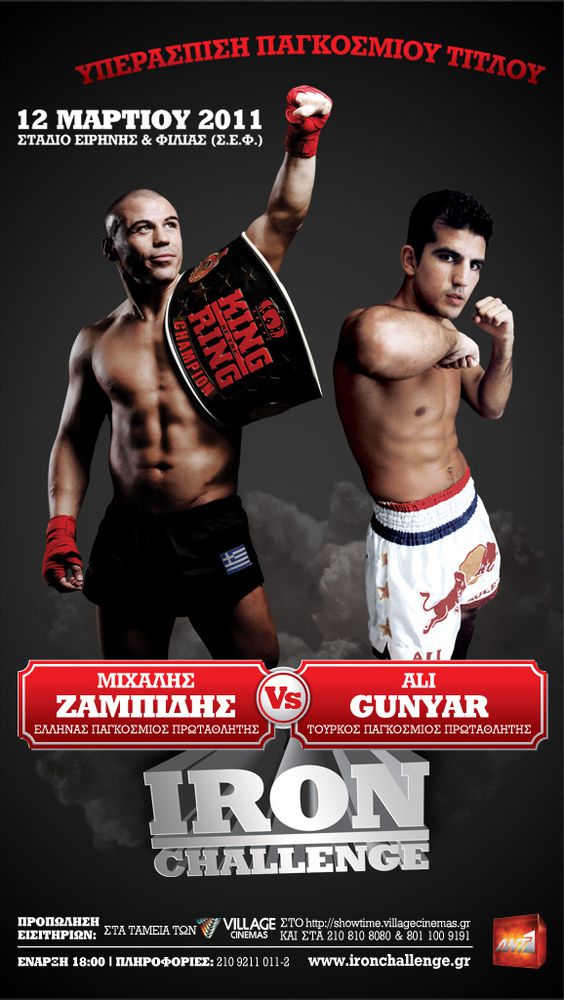 IRON CHALLENGE


March 12, 2011
Athens, Greece.
Iron Mike will have the opportunity to fight "in his home" in Athens, on the 12th of March, against the tough Turkish Ali Gunyar.

Zambidis will defend his World Title "King of the Ring" in a battle that is expected to be really excited!



"King Of The Ring" World Title
(K-1 - 5x3 - 71Kg MAX)

Mike Zambidis

VS

Ali Gunyar
Super-Fights

Alexandros Chatzihronoglou
VS
81Kg

Vasilis Karagiannidis
Maria Pantazi
VS
60Kg

Christina Linardatou
Florian Markou
VS
74Kg

Alexandros Gerekos
Stravos Exakoustidis
VS
68Kg

Nikos Gkikas
Serop Antzemian
VS
86Kg

Vasilis Papageorgiou
Iron Challenge