IKA Super HeavyWeight Title Dzevad Poturak Vs Alain Ngalani in Las Vegas.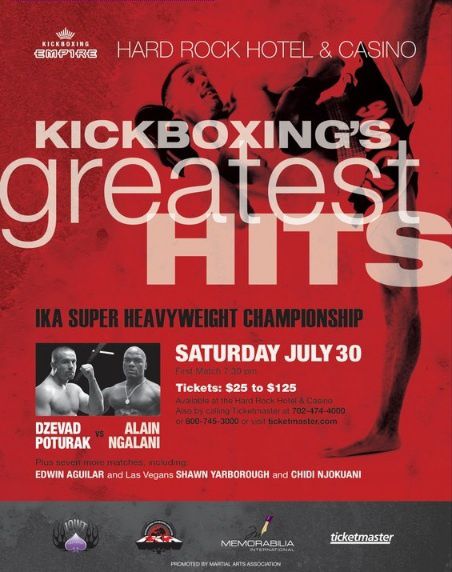 World Championship Kickboxing


July 30, 2011
Hard Rock Hotel and Casino, Las Vegas, USA
.
The finest collection of international kickboxers to compete in Las Vegas in four years--including five current
and former world champions--collide Saturday, July 30, in the Joint at the Hard Rock Hotel & Casino.
Headlining the eight-match card is Alain "The Panther" Ngalani of Hong Kong against Dzevad "BH Machine"
Poturak of Sarajevo, Bosnia, for the International Kickboxing Association super heavyweight championship.
Other international fighters include Denis Goncheronok of Minsk, Belarus; Sergio Cario of Amsterdam,
Netherlands; Edwin "El Tigre" Aguilar of Tijuana, Mexico; Pavel Turuk of Minsk, Belarus; and Tim Thomas of
Birmingham, England.
Las Vegans on the card include Chidi "Chidi Bang Bang" Njokuani and Shawn Yarborough.
The card starts at 7:30 p.m. (Pacific) July 30 with doors to The Joint at the Hard Rock Hotel & Casino
opening at 6:30.
Tickets-priced at $25, $35, $50, $75, $100 and $125-are available at the Hard Rock Hotel & Casino box office
daily from 10 a.m. to 8 p.m. and through Ticketmaster, either by calling 702-474-4000 or 800-745-3000 or
going on line at ticketmaster.com.
---
MATCH MAKING
IKA Super HeavyWeight Title
Dzevad Poturak (47-16-1) Vs Alain Ngalani (26-7-1)
Announced Matchups
Denis Goncheronok vs. Sergio Cario
Edwin Aguilar vs. Chidi Njokuani
Pavel Turuk vs. Shawn Yarborough
Tim Thomas vs. Tony "Lionheart" Hervey
Women's lightweight, opponents to be determined