FURY 2 - Armageddon - Macau - Jess "The Joker" Liaudin & Ferrid Kheder.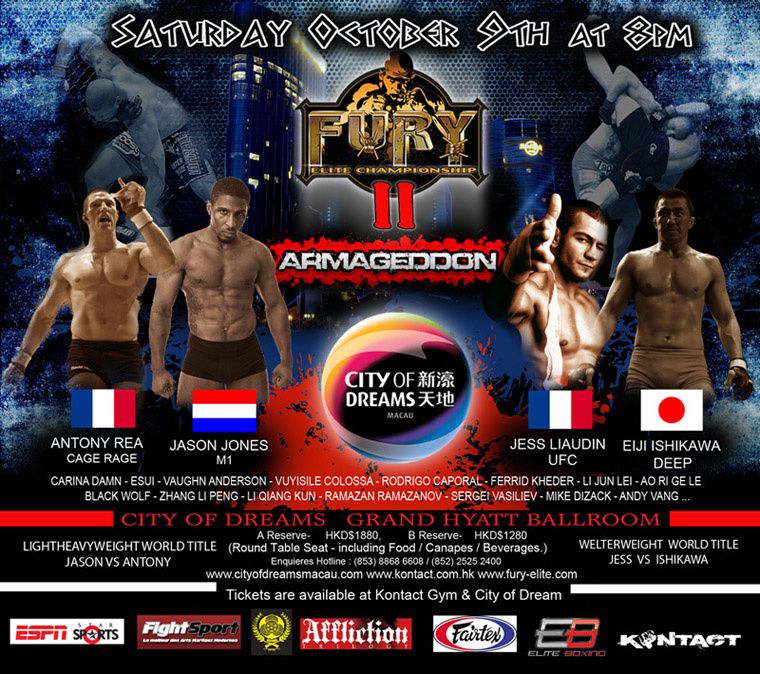 FURY II
ARMAGEDDON
09 Octobre 2010
Grand Hyatt Ballroom, City Of Dreams, Macau, China.

City of Dreams announces that it will be pitching home grown talent from China against some of the world's best Mixed Martial Arts fighters at the next FURY Cage Fighting Championships. FURY II - Armageddon will see 20 fighters go to battle in the region's only cage fighting arena at the Grand Ballroom, Grand Hyatt Macau at City of Dreams on Saturday October 9, 2010.

This electrifying event will start with five fights in a specially constructed cage, which will see the best Chinese Mixed Martial Arts fighters going up against well known cage fighters from around the globe. The line up is as follows:
Li Qiang Kun (China) v Vaughn Anderson (Canada)
Zhang Li Peng (China) v Vuyisile Colossa (South Africa)
Black Wolf (China) v Ferrid Kheder (France)
Ao Ri Ge Le (China) v Mike Dizak (USA)
Li Jun Lei (China) v Rodrigo Caporal (Brazil)


The finale of the evening will be the two World Championship fights – the Light Heavyweight MMA World title and the Welterweight MMA World title.

Crowned Light Heavyweight MMA World Champion at FURY I – Clash of the Titans, Antony "Wild Thing" Rea from France is back to defend his title against Holland's Jason Jones. Both fought at FURY I in May 2010 where Jones laid down the gauntlet to take on the champion at the next FURY Cage Fighting Championships. Expect a show of strength and determination as these 93kg fighters go head to head.

Battling it out for the Welterweight MMA World Championship belt is the UFC fighter Jess "Joker" Liaudin from France and Eiji Ishikawa from Japan. Weighing in at 78kg, both MMA fighters have exceptional records and it should be a no hold bars match.
FIGHTCARD

Main Event

LightHeavyWeight World MMA Title

Anthony Rea
VS

Jason Jones

WelterWeight World MMA Title

Jess"The Joker" Liaudin
VS

Eiji Ishikawa

Super-Fight

China
VS
Challengers
Black Wolf
VS

Ferrid Kheder (FRA)

Zhang Li Peng
VS

Vuyisile Colossa (S.A)

Li Qiang Kun
VS

Vaughn Anderson (CAN)

Ao Ri Ge Le
VS

Mike Dizak (USA)

Li Jun Lei
VS

Rodrigo Caporal (BRA)

Super-Fight Women

Esui (JAP)
VS

Carina Damm (BRA)
FURY 2 - Armageddon - Macau - Jess "The Joker" Liaudin & Ferrid Kheder.