Final Fight - Mirko Cro-Cop vs Ray Sefo - Video ITW and Press Conference.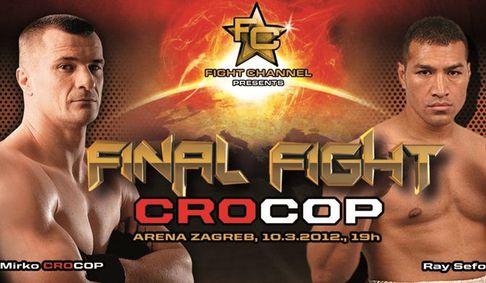 Final Fight
March 10, 2012
Arena Zagreb, Zagreb, Croatia.

TRANSLATION

"It was a big surprise for me that Ray Sefo accepted this match and I'm happy for that. Sefo is a dangerous knockout artist who proved that with his magnificent performances in K-1 tournaments. The guy really has a bomb in his fist, excellent leg kicker with a lot of experience, it will be a tough match. I think it's most fair that I'm fighting him in front of home crowd. You can't fool anyone, you can't just bring a random can nor did I want to do that."

"I'm 7 weeks away from being top prepared, that's when the fight will happen so I timed my preparations accordingly. I've successfully recovered from the surgery, I feel great now and I believe I'll be in top shape. It will be a spectacle, not even K-1 finals would be ashamed of this fight card. There's not much more to say to that, I'm glad to have returned to the sport I came from, I said it many times before, even when I was at the peak in Pride, K-1 is the most attractive fighting sport out there because it is much more dynamic than ultimate fight, there's not much calculating in it."

In the last part Mirko is arguing with the guy next to him about free tickets. Saying he was told he can get the free tickets on www.nofreetickets.com, making it his first match ever that he wouldn't get free tickets as a fighter. They went back n forth, Mirko saying he has to ask him in front of all the people how many tickets, if any, he'll get. The guy responded, how many you want? Mirko said 70, commenting "well you asked me how many I wanted". They ended up laughing, so I'm assuming Mirko was half-joking on the whole topic.
FIGHT CARD
Mirko "Cro Cop" – Ray Sefo
Igor Jurković – Freddy Kemayo

Daniel Ghita – Sergei Lischenko

Mladen Brestovac – Mourad Bouzidi

Dževad Poturak – Ismael Lundt

Mladen Kujundžić – Marin Došen

Agron Preteni – Guy Pacome Assi

Stefan Jelić – Michael Duut

Sahak Parparyan – TBA

Ivan Posavec – Miran Fabjan