Battle in the Desert 3 - Alexander Cosmo vs Sakmongkol - Hollenbeck vs Chu - WBC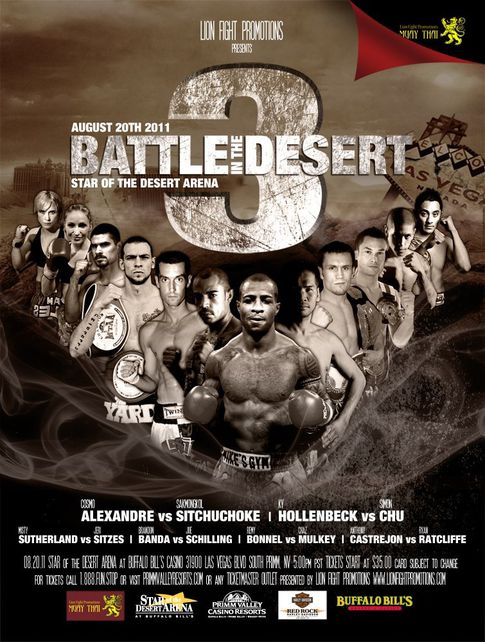 Battle in the Desert 3

August 20, 2011
Primm Valley Casino, Nevada, USA.
PRIMM, NEV. (July 6, 2011) – Lion Fight Promotions announced today that it has added a world interim middleweight (160 pounds) title bout and co-main event pitting champion Ky Hollenbeck (18-1)of San Francisco, Calif. against challenger Simon Chu (29-6) of Leeds, England to its highly-anticipated World Boxing Council (WBC)-sanctioned Muay Thai fight card at Star of the Desert Arena in Primm, Nev. on Sat., Aug. 20.
Additionally, the previously announced middleweight (*contracted weight of 155 pounds for this bout) matchup between Chaz Mulkey (6-4) of Las Vegas and Remy Bonnel (55-7) of Miami, Fla. has been upgraded to a WBC interim international title fight. The previously announced bout between Joe Schilling (10-1) of Los Angeles, Calif. and Brandon Banda (5-1) of Concord, Calif. has likewise been promoted to a title bout with the vacant WBC USA light heavyweight (175 pounds) crown at stake.
Tickets for Lion Fight Promotions' stacked WBC world championship Muay Thai event are on sale and can be purchased at the Primm Valley Casino Resorts ticket office (702-386-7867), Ticketmaster by phone at (800) 745-3000 and online at Ticketmaster.com and LionFightPromotions.com.
---
Complete Fight Card:
Professional:
Main Event
Middleweight (*contracted weight of 155 pounds for this bout)/ 5x3
Cosmo Alexandre (Brazil/ Deerfield, FL) vs. Sakmongkol Zingano (Thailand/ Denver, CO)

Co-Main Event
Middleweight (160 lbs) / WBC interim world title / 5x3 rounds
Ky Hollenbeck (San Francisco, CA) vs. Simon Chu (Leeds, England)

Middleweight (*contracted weight of 155 pounds for this bout) / WBC interim international title / 5x3 rounds
Chaz Mulkey (Las Vegas, NV) vs. Remy Bonnel (Miami, FL)

Light Heavyweight (175 lbs) / WBC USA light heavyweight title / 5x3 rounds
Joe Schilling (Los Angeles, CA) vs. Brandon Banda (Concord, CA)

Super Bantamweight (122 lbs) / WBC international title / 5x3 rounds
Jeri Sitzes (Springfield, MO) vs. Misty Sutherland (Calgary, Canada)

Catchweight 124 lbs / 5x3 rounds
Anthony Castrejon (Las Vegas, NV) vs. Ryan Ratcliffe (Concord, CA)

Amateur:
Jason Andrada (Las Vegas, NV) vs. Oscar Sanchez (Irvine, CA)
Catchweight 125 lbs / 3x2 rounds
Justin Driggers (Las Vegas, NV) vs. Carlos Delcid (Van Nuys, CA)
Light Heavyweight (agreed weight - 180 lbs) / 3x2 rounds
Genesis Bravo (Las Vegas, NV) vs. Jill Guido (Concord, CA)
Flyweight (112 lbs) / 3x2 rounds
Patti Teran (Las Vegas, NV) vs. Sylvie von Duuglas-Ittu (New York, NY)
Mini Flyweight (102 lbs) / 5x2 rounds
Johnny Parsons (Las Vegas, NV) vs. Moses Lopez (Los, Angeles, CA


Welterweight (147 lbs) / 3x2 rounds




Josh Shepard (Las Vegas, NV) vs. Michael Ellison (Los Angeles, CA)


Middleweight (160 lbs) / 3x2 rounds