Battle in the Desert 3 - Alexander Cosmo vs Sakmongkol - Hollenbeck vs Chu - Quick Results.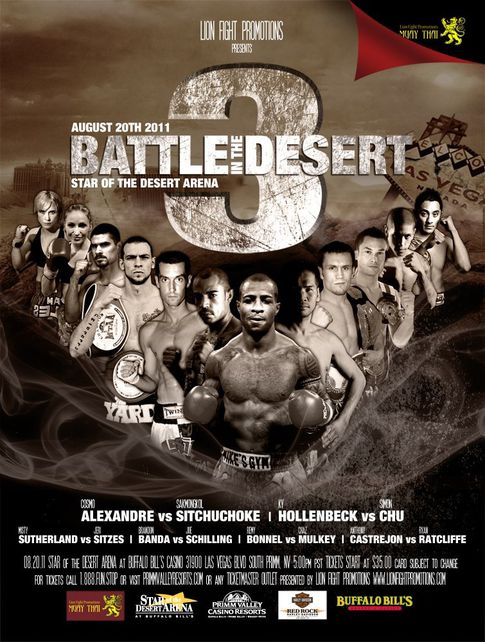 Battle in the Desert 3

August 20, 2011
Primm Valley Casino, Nevada, USA.
Quick Results
Main Event
Super-Fight 5x3 rounds
Cosmo Alexandre (Brazi) vs. Sakmongkol Zingano (Thailand)
Winner: Sakmongkol Zingano unanimous decision.

Co-Main Event

WBC interim world title / 5x3 rounds
Ky Hollenbeck (San Francisco, CA) vs. Simon Chu (Leeds, England)
Winner: Ky Hollenbeck unanimous decision.

WBC interim international title -5x3 rounds
Chaz Mulkey (Las Vegas, NV) vs Remy Bonnel (Miami FL)
Winner: Chaz Mulkey split decision.

WBC USA light heavyweight title 5x3 rounds
Joe Schilling (Los Angeles, CA) vs. Brandon Banda (Concord, CA)
Winner: Joe Schilling KO 1st round. ruthless knee

WBC international title - 5x3 rounds
Jeri Sitzes (Springfield, MO) vs Misty Sutherland (Calgary, Canada)
Winner: Jeri Sitzes TKO 3rd round. (cut)

Catchweight 124lbs - 5x3 rounds
Anthony Casterjon (Las Vegas, NV) vs Ryan Ratcliffe (Concord, CA)
Winner: Anthony Casterjon TKO 4th round. (cut)