Battle in the desert - Results - Mananquil new WMC WW Champion - Ross loses against Sittisak.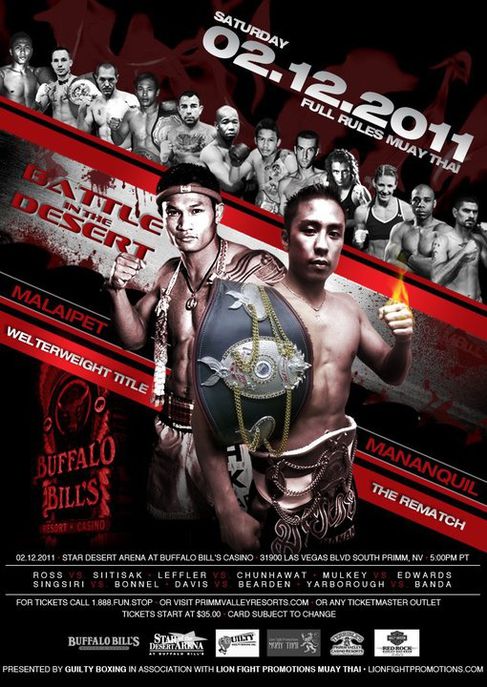 LION FIGHT
PROMOTION
February 12, 2011
Star ot the Desert Arena, Primm, Nevada, USA.
From the opening round Mananquil pressed the action, and didn't hold anything back. He threw nice combinations with his hands and kicks, and when they clinched he worked his knees and elbows. The only real sign of life from Malaipet came in the second round when he dropped Mananquil with a short right hand. Mananquil received a standing eight count, but after that he continued his attack en route to a unanimous decision victory. With the win Mananquil won the WMC Welterweight Title, and Malaipet now drops his third straight fight.

Source : Muaythaiauthority.com
Results
Professional Card

Malaipet

VS
147Lbs
Michael Mananquil

Mananquil def. Malaipet via Unanimous decision.


Michael Mananquil became the new WMC World Welterweight Muaythai Champion.

Chaz Mulkey

VS
160Lbs
Douglas Edwards
Mulkey def. Edwards via TKO (Knee) Rd2 2:41.

Kevin Ross

VS
140Lbs
Sittisak Por Sirichai
Sittisak def. Ross via Split Decision.
Remy Bonnel
VS
160Lbs
Singsiri Por Sirachai
Bonnel def. Singsiri via TKO Rd3 3:21.

Amy Davis

VS
114Lbs
Emily Bearden
Davis def. Bearden via Unanimous decision.

Scotty Leffler

VS
140Lbs
Coke Chunhawat
Chunhawat def. Leffler via TKO Rd2 5:00.

Shawn Yarborough

VS
175Lbs
Brandon Banda
Banda def. Yarborough via Unanimous decision.

Amateur Card

Anthony Castrejon

VS
125Lbs
Jason Andrada
Castrejon def. Andrada via KO (High-Kick) Rd1 0:38

Genesis Bravo

VS
112Lbs
Miranda Cayabyab
Cayabyab def. Bravo via Unanimous decision

Patti Teran

VS
105Lbs
Pixi O'rielly
Teran def. O'Rielly via Split Decision.

Jason Park

VS
160Lbs
Josh Pickthall
Pickthall def. Park via Unanimous decision.

Jason Cauldwell

VS
Josh Shepard
Cauldwell def. Shepard via TKO Rd2 1:59.
United Glory - Round 2