BAMMA 5 - Manchester - Paul Daley vs Yuya Shirai - McSweeney vs Rodriguez.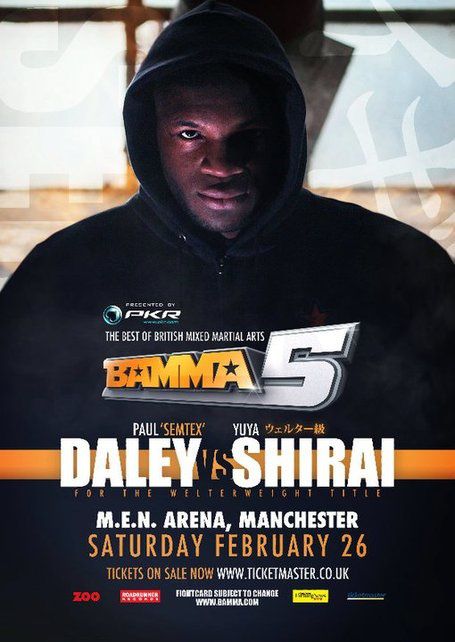 BAMMA
5

February 26, 2011
M.E.N. Arena, Manchester, England
.
BAMMA 5 will be the first BAMMA event held outside of Birmingham or London. The event was originally scheduled to take place at the Metro Radio Arena in Newcastle on December 4, 2010 and headlined by a heavyweight bout between Stav Economou and Bob Sapp. However, due to snowstorms in the UK the event was cancelled
It has now been rescheduled for February 26, 2011 at the MEN Arena in Manchester. In January 2011, it was reported that Paul Daley was in advanced talks to headline the event. It was also reported by Scott Coker of Strikeforce that Paul Daley would only fight the winner of Nick Diaz and Evangelista Santos if he wins at BAMMA 5.
This event will be aired live at 9pm on the UK TV channel SyFy, on the 26th of February as part of a new tv deal.
FightCard
Main Card

Paul Daley

VS
WW
Yuya Shirai
James McSweeney

VS
HW
Ricco Rodriguez
Preliminary Card

Daniel Thomas

VS
LW
AJ Wenn


Rob Mills

VS
WW
Leight Cohoon


Jason Ball

VS
LW
Maktar Gueye

Paul Cook

VS
WW
Tom Maguire


Tim Newman

VS
LW
Diego Vital

Costas Doru

VS
LW
Liam James


Franky Slater

VS
LW
Jeremy Petley

Charlie Leary

VS
WW
Tom Breese

BAMMA 5