Bali Muaythai Grand Match 2011 - Panom VS Andy Trasher .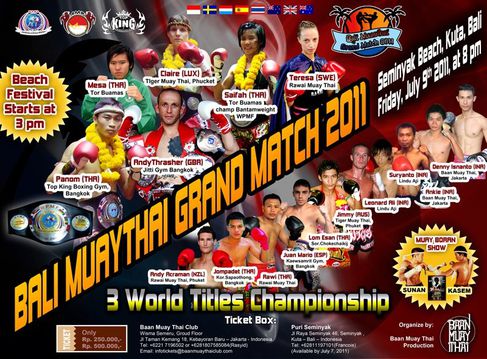 BALI MGM 2011

July 09, 2011
Seminyak Beach, Kuta, Bali, Indonesia
.
---
Bali Muaythai Grand Match

is the first International Muaythai Event in Indonesia. This event is supported by WPMF (World Professional Muaythai Federation) and AMPI (Indonesia Professional Muaythai Association). New concept of Muaythai event which includes Beach Festival and WPMF Titles Championship, which are:
Super Welter Weight 154 Lbs :
Panom (THA) VS Andy Trasher (GBR)

Women Light W eight 135 Lbs :
Messa (THA) VS Claire (LUX)

Women Bantam Weight 118 Lbs :
Saifa (THA) VS Teresa (SWE)

And many more matches involving 8 countries. We present Muay Boran Show for an exhibition fight.

As the event host, Indonesia has an opportunity to show rapid developing of Indonesian Muaythai through 4 Indonesian athletes. They will be observed by WPMF team. WPMF will assess and decide whether they deserve to compete in other prestigious International event.

Bali Muaythai Grand Match is organized by Baan Muay Thai Production and promoted by Mr. Francois Mohede (Baan Muay Thai Club,Jakarta ), Mr. Philek (from Thailand) and Mr. Tuk (Rawai Muay Thai,Phuket).